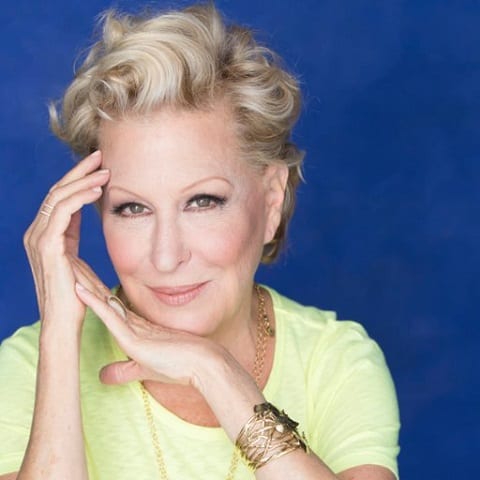 Bette Midler is at the epicenter of a furious tweet storm after taking a dig at Caitlin Jenner on Twitter on Saturday.
Referring to the cancellation of Jenner's show I Am Cait, Midler tweeted, "Now that @IAmCait has been cancelled, will she go back to being Brice? Will Kris take him back? Do I smell a re-wedding?!"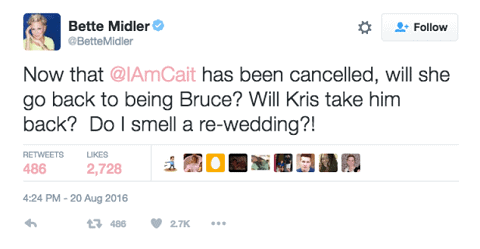 The tweet was quickly deleted but the internet does not forget.
Yes, because being transgender is just a phase? What a vile tweet. Will you go back to being irrelevant?

— joshua 🌱 (@joshcharles_21) August 21, 2016
https://twitter.com/IndiYesReally/status/767299544480518144
.@BetteMidler @IAmCait Just shows, you can be as gay-friendly all you want, but to some, transphobia comes so easy. How tired and pathetic.

— Annie Wallace (@anniewallace) August 21, 2016
Some fans came to Midler's defense.
https://twitter.com/UrFavAsianGuy/status/767256155194322944
https://twitter.com/xashfordx/status/767508001121067012
Midler herself later issued an apology of sorts.
DEAR FRIENDS @HRC, WHOM I HAVE ALWAYS SUPPORTED. SORRY LAST TWEET OFFENDED. AN IDLE MUSING. I SEEM TO HAVE MISREAD THE TEMPER OF THE TIMES.

— bettemidler (@BetteMidler) August 21, 2016
Some of her followers aren't buying it though.
I'm not really here for a war. But the wording suggests she doesn't really understand why people were hurt

— Queer Wrath Month 💛🤍💜🖤 (@caz_tastrophe) August 21, 2016
By "misread the temper of the times," do you mean you thought society at large was transphobic enough to laugh along with you? @BetteMidler

— Secret Gamer Girl (@SecretGamerGrrl) August 21, 2016
(Image via Twitter)