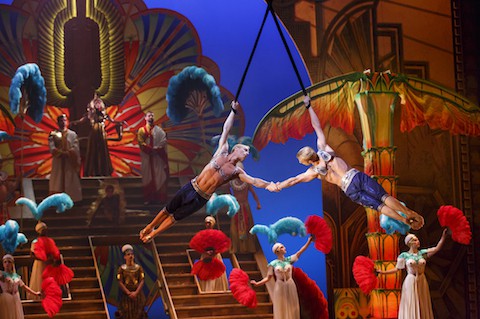 There are a handful of death-defying acts in Cirque du Soleil's Paramour, which opened on Broadway last night at the Lyric Theatre. They are of the kind you expect from the world-renowned acrobatic troupe: like a pair of, er, very attractive and very bare-chested male twins swinging through the air in each other's arms, and a seesaw act that likewise catapults men in tights high into the sky.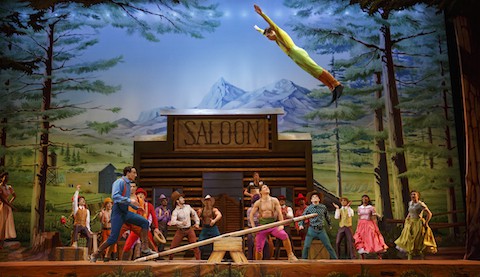 But thrilling moments like these are fleeting. Everything else, the trappings that signify this is company's attempt to present a Broadway-style musical — the forgettable songs (by Guy Dubuc, Marc Lessard, and Andreas Carlson), canned dialogue, an alternately cliché and cockamamie plot (Jean–François Bouchard serves as "creative guide" and director, Phillipe Decoufle as conceiver and director) — are disproportionately amateur to both the physical feats on display and the scale of one of Broadway's biggest theatres.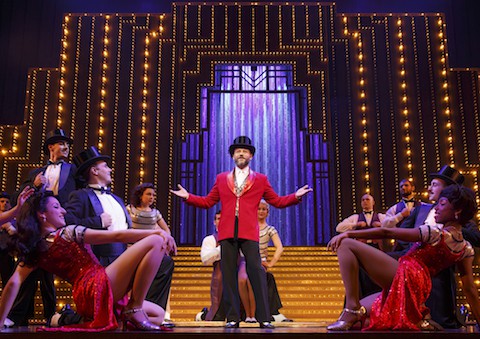 In keeping with the company's circus roots, the show comes complete with a ringmaster — a blustery Hollywood director named AJ (Jeremy Kushnier). He's here to tell us how he met his muse, a redhead named Indigo (Ruby Lewis), whom — surprise! — he discovers in a nightclub, along with her are-they-or-aren't-they songwriting boo, Joey (Ryan Vona). And wouldn't you know it? She's from the Midwest! And she's about to become a star!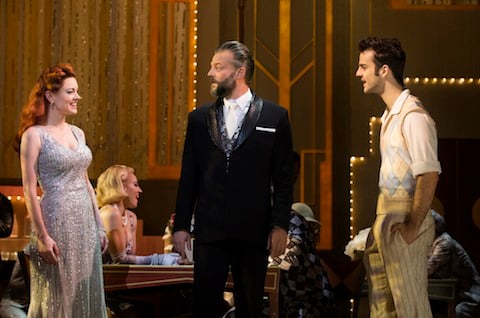 From what we can gather, the movie that she's going to headline is… a collage of other movies? Sorry, make that films — distinguishing between the two becomes a feeble running joke. Indigo is to take on such iconic characters as Cleopatra and Annie (the one who wants her gun), while Joey is to compose the score, most particularly a love song. But AJ is monopolizing his inspiration, and so Joey's lack of creative juice all too readily mirrors Paramour's.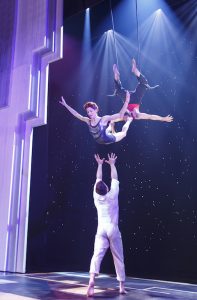 The climax of this timeless love triangle is a pas de trois plucked straight from Center Stage (or any number of other popular entertainments) — a controlling director promising his star the world and a humble lover offering her his heart. If the story weren't already such an absurd pastiche of Tinseltown tropes, I might gripe about the gender politics of a tug of war that casts a woman as rope.
But the point of all this may be to provide varying backdrops and contexts for what the company does best: create visual splendor with near-Olympian bodies. And the show does so occasionally to stunning effect (the twins soar over a film set of ancient Egypt, the high jumps happen in Annie's American West). But few of these displays have much, if anything, to do with the story (such as it is), save for the trio of acrobats who perform said aerial pas de trois while the lovers stand around and sing.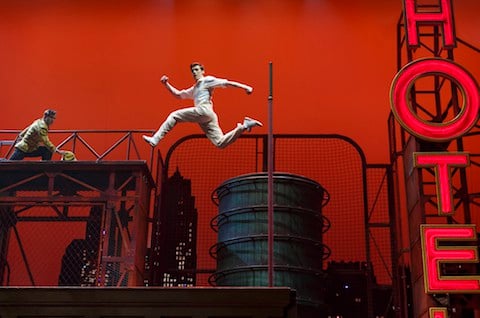 Even relaying a plot this paper-thin feels like a struggle (don't even ask how it ends, I honestly couldn't tell you). More unfortunately, the story becomes a distraction from the incredible physical talent otherwise on display — and a hindrance to the troupe's ability to really wow audiences. But you can always head to Vegas for that.
Follow Naveen Kumar on Twitter: @Mr_NaveenKumar (photos: richard termine)