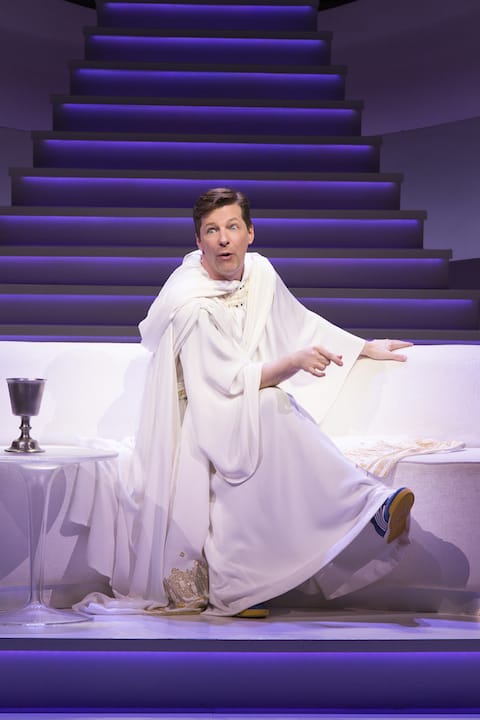 When it first premiered on Broadway last June, David Javerbaum's winking satire of the Judeo-Christian enterprise felt as pedantic as it did cliché. Jim Parsons' turn as a smug, self-satisfied man upstairs was neither likable nor particularly funny and made An Act of God's 90 minutes drag like Sunday school with a teacher who uses humor to seem "hip." (Parsons' defining role on cult nerd series The Big Bang Theory may have colored with this approach.)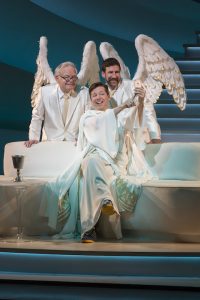 In a return engagement of director Joe Mantello's production, which opened last night at the Booth Theatre, Sean Hayes accomplishes what seems like a divine feat: transforming what previously felt like a bloated late-night sketch into an enjoyable vehicle for his distinct and mighty talents. No, Hayes isn't serving up God as Jack McFarland (you may hold your "Just Jesus!" jokes), but the actor has always shared a relatable, witty charm with his Will & Grace character. He also knows how to command a stage, particularly useful given the role.
Since the show was last in New York (Hayes also performed it in L.A. and San Francisco), Javerbaum has updated the script, adding in requisite jokes about Twitter trending topics like Donald Trump, Bill Cosby, and Hamilton. (The show is based in part on Javerbaum's Twitter feed @TheTweetOfGod and on his book The Last Testament: A Memoir by God.) But its bones are the same: God has come to Broadway, using Sean Hayes as a vehicle (so meta!) to tell the world we've been getting it all wrong and set us straight with his "new" 10 commandments.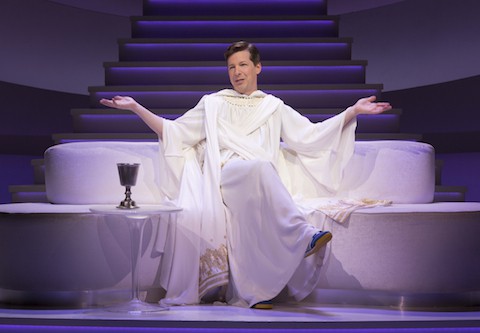 The structural device of a top 10 list hasn't grown any more inspired, but in Hayes' hands, it feels remarkably less tedious. (A more intimate setting definitely helps; the production made the larger Studio 54 feel like a mega church — who wouldn't be counting down the minutes?) As Hayes rattles off the new directives, veering this way and that to revise details of classic Bible stories, his humor is never without teeth or less than perfectly timed.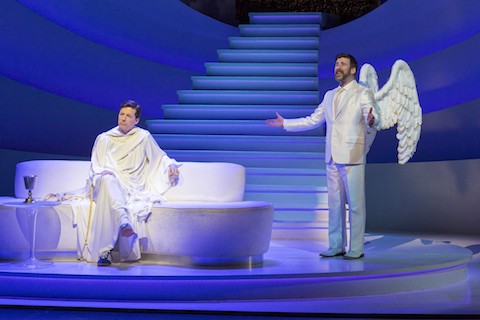 Rather than presenting an absurd caricature that the audience will inevitably dislike, Hayes actually builds a real character. If we can't exactly empathize with him, at least he seems like some sort of emotional being — a God in the image of man — a nuance that makes us think more deeply about what is being said. In his conflict with the angel Gabriel (here played by David Josefsberg), Hayes' wrath feels rooted rather than put on. He also manages to mine a gimmick-heavy script for emotional moments that actually resonate, then flip seamlessly into delivering a punch line.
While it still drags at times, this resurrection of the celestial comedy is decidedly more entertaining with Hayes leading the charge — less like a joke-addled, liberal diatribe (i.e. a Twitter feed) and more like a show you'd actually pay to see.
Follow Naveen Kumar on Twitter: @Mr_NaveenKumar (photos: jim cox)