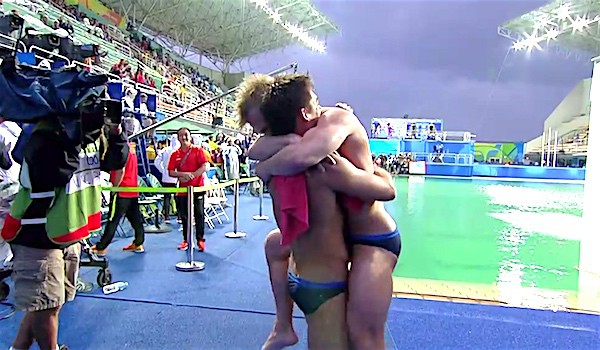 The UK's Daily Mail newspaper enraged social media after it suggested that a hug between synchronized divers Jack Laugher and Chris Mears, who won gold for Team GB in the 3-metere synchronized dive, was unmanly.
Wrote the Mail in a headline:  "Steady on chaps! Britains victorious synchronised divers hug for joy after winning gold – while China's bronze medalists settle for a manly pat on the back."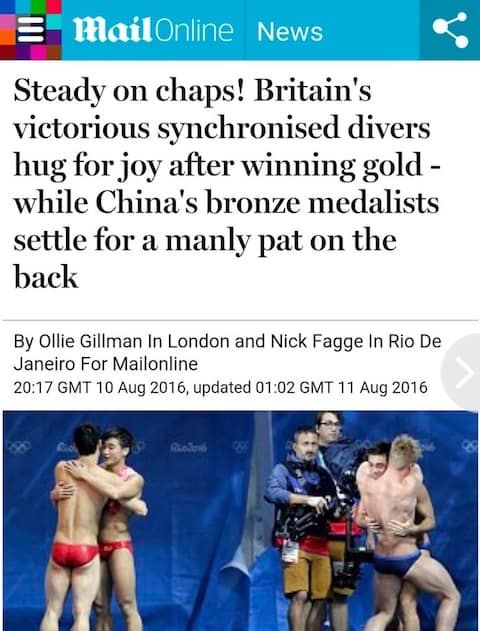 Twitter users responded ferociously:
The Daily Mail has angered me even more than usual today! Boys are allowed to hug. It's not unmanly. 😠 pic.twitter.com/PYykcscoXe

— Alice Pope (@Alice_Pope) August 11, 2016
Jack Laugher & Chris Mears won a gold Olympic medal & the daily mail run a headline criticising their masculinity for hugging to celebrate 🙄

— Calum McSwiggan (@CalumMcSwiggan) August 11, 2016
FFS! Homophobic Daily Mail strikes again. From someone who has worked there, it's full of gay people. Hypocrites https://t.co/YYtWsdGCu1

— Pádraig Prendergast (@prendergast) August 11, 2016
https://twitter.com/TEHayward/status/763626436708208640
https://twitter.com/ASchuerholz/status/763733179861577728
Apparently hugging is not very 'manly'. This backward view of gender behaviour and casual homophobia has to stop. pic.twitter.com/nuJl1RCMxd

— Wayne David (@WayneDavid81) August 11, 2016
The newspaper later rewrote the headline to read: "The British diver is so hot!!!' Gold medal hearthrob sends women AND men into meltdown after stunning show in Rio."
It later published this article.