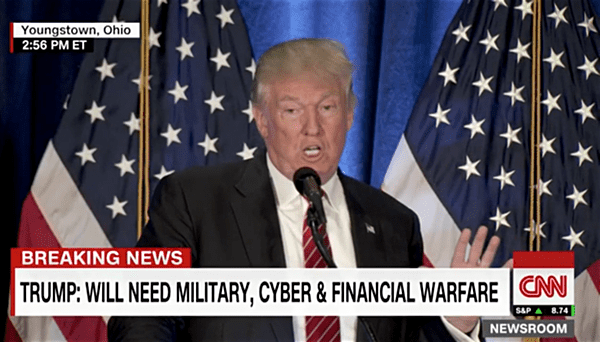 Donald Trump will announce today a proposal to test whether immigrants support gay rights before granting them entry to the United States.
Trump will make the remarks during a foreign policy address in Ohio in which he will lay out principles for how he would handle international affairs. He and his team dub the Trump approach, "foreign policy realism" that promises to end the practice of nation-building. It's worth noting that George W. Bush made the same promise in the 2000 presidential debates. And look how that turned out.
The focus of Trump foreign policy would be on defeating "radical Islamic terrorism." Part of that strategy involves adding even more provisos to who the government allows into the United States.
While Trump has already called for a temporary ban on all Muslims entering the United States, he will go further and suggest that there need to be political tests applied to immigrants and others seeking entry to the US. One of those tests would be centered on gay rights.
It will be the latest version of a policy that began with Trump's unprecedented call to temporarily bar foreign Muslims from entering the country — a religious test that was criticized across party lines as un-American. Following a massacre at a gay nightclub in Orlando, Florida, in June, Trump introduced a new standard.
"As he laid out in his Orlando remarks, Mr. Trump will describe the need to temporarily suspend visa issuances to geographic regions with a history of exporting terrorism and where adequate checks and background vetting cannot occur," Miller said.
Trump is also expected to propose creating a new, ideological test for admission to the country that would assess a candidate's stances on issues like religious freedom, gender equality and gay rights. Through questionnaires, searching social media, interviewing friends and family or other means, applicants would be vetted to see whether they support American values like tolerance and pluralism.
What Trump will define as support for gay rights is largely unclear, however, given that he himself has said he would consider appointing Supreme Court justices that would overturn the gay marriage ruling in Obergefell v. Hodges.
UPDATE. During his address, Trump blasted Hillary Clinton's record on gay rights because the Clinton Foundation has accepted money from anti-gay countries.
Said Trump, "While my opponent accepted millions of dollars in foundation donations from countries where being gay is an offense punishable y prison or death, my administration will speak out against the oppression of women, gays and people of different beliefs."
Trump: The Clinton foundation accepted money from countries "where being gay is an offense https://t.co/74hBWleQnA https://t.co/zebgiaauzw

— CNN Politics (@CNNPolitics) August 15, 2016
Trump has leveled this charge against Clinton before.
Right-wing group "LGBT for Trump" issued a statement following Trump's speech declaring that Trump is the "only presidential candidate committed to protecting LGBT Americans from radical Islam."
LGBT for Trump says he is "only presidential candidate committed to protecting LGBT Americans from radical Islam." pic.twitter.com/JFfZQzPZwT

— Dominic Holden (@dominicholden) August 15, 2016
Meanwhile, some on Twitter were nonplussed with Trump's remarks.
Trump's new admissions test would question immigrants on religious freedom, gender &gay equality

MANY many many GOPers would fail that test

— igorvolsky (@igorvolsky) August 15, 2016
https://twitter.com/SopanDeb/status/765261264285237253
Trump also reportedly blasted President Obama for not denouncing Middle Eastern nations for their records on gay rights.
https://twitter.com/SopanDeb/status/765257117020327936
Watch Trump's full foreign policy speech, below.