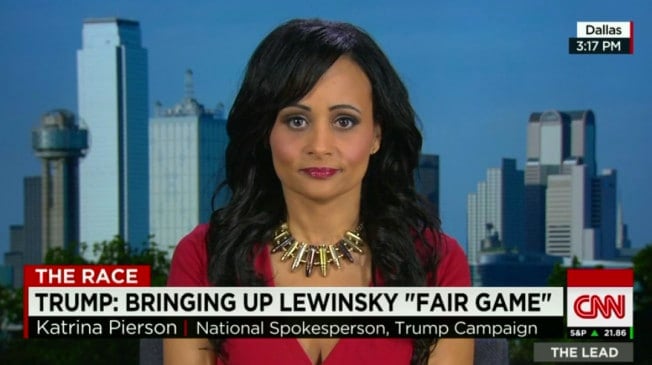 Those who have been closely following this year's election on cable news will undoubtedly recognize Katrina Pierson as one of Donald Trump's more prominent and truth-resistant surrogates. Pierson often appears on CNN, attempting to clean up Trump's most recent incendiary remarks.
She has also been known to make incendiary remarks of her own on a wide range of subjects. Even her jewelry seems to stir controversy because in the world of Donald Trump, there's no such thing as bad press.
Now, it turns out that gay people can be included among the many groups Pierson has attacked and degraded.
As BuzzFeed's Dominic Holden reports, Pierson in 2012 said "gay is not normal" in an extensive back and forth on Twitter over same-sex marriage.
Pierson also suggested that the constitution doesn't offer marriage equality protections and that a gay marriage that takes place in a church will never be a real marriage, so to speak.
@michael_atx You will never for acceptance, but you could win coexistance. Gay is not normal, accept that.

— Katrina Pierson (@KatrinaPierson) March 1, 2012
@michael_atx I didn't realize that #marriage was in the U.S. Constitution? Did I miss that page? Federal license? @tedcruz #txsen

— Katrina Pierson (@KatrinaPierson) March 1, 2012
@michael_atx Even getting "married" in a church doesn't make it a marriage.

— Katrina Pierson (@KatrinaPierson) March 1, 2012
Here's how Pierson responded to the tweets resurfacing:
"It's a long reach to go back to 2012 to try to create a new hit piece and call it relevant," Pierson wrote to BuzzFeed News in an email. "You'll also find that as a grassroots volunteer for multiple campaigns, it's quite common that Twitter is a platform to promote/defend the policies and values of the candidates at the time. Many times, it's about engaging trolls which can lead to humorous and sarcastic banter."
"I'm sure you'll also find that the positions/values of the candidates are not necessarily a sole reflection of the individual promoting or supporting said candidate," she added.
"Therefore, there is nothing to square."
Donald Trump has repeatedly insisted that the LGBT community likes him, that he is a friend to the LGBT community and that he is a better candidate on LGBT rights than Hillary Clinton.