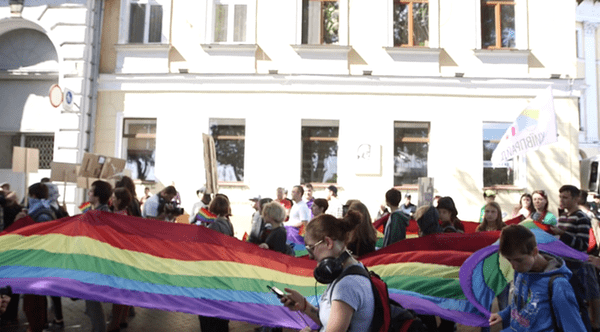 The Ukrainian city of Odessa held its first LGBT pride march last weekend despite threats from protesters and attempts by local authorities to block the march.
LGBT rights activists were originally told by local police that the march could not be sanctioned because of threats from right-wing extremists to disrupt the pride celebration. Authorities in countries hostile to LGBT rights have been known to cite public safety as a reason for cracking down on pride demonstrations in the past. This happened in Istanbul in both 2015 and 2016.
In Odessa, however, pride organizers were ultimately able to convince police to allow the march to go ahead. Approximately 50 people showed up for the pride and police were on hand to offer protection and quell any possible violence.
As a result, an area near the historic Potemkin Stairs was cordoned off by a few hundred police officers and special forces.
'We know that there is a threat from small extremist groups that operate in Odessa," Anna Leonova, an organizer of Odessa Pride, told NBC OUT. "But I don't believe that in our city there are forces that … may constitute a danger for us."
"Today you are making history," Zoryan Kis, an LGBTQ activist and one of the organizers of Kiev Pride, told the crowd. Kis said Odessa Pride would have been impossible just one year ago.
Police did encounters a small group of right-wing protesters who were cordoned off and held back from disturbing the march.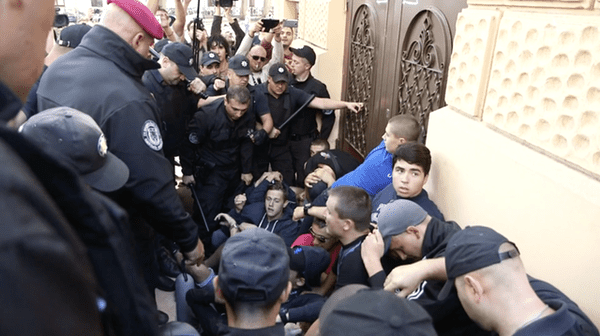 One protester shouted at police, "Guys are shedding blood there [in eastern Ukraine where the conflict with Russia continues], but you protect gays." Eastern Ukraine has been a flashpoint since Russian-backed forces invaded Crimea in 2014.
Watch a news report, below.