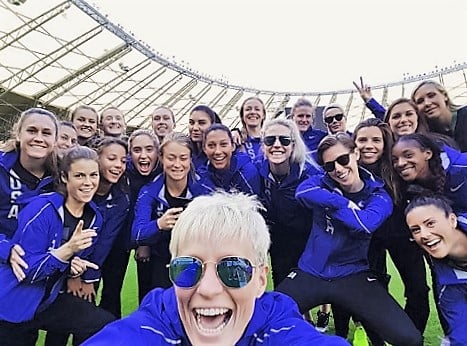 Female athletes at the Olympic games in Rio are being taunted by crowds chanting "bicha," a homophobic slur comparable to "faggot."
According to the LA Times, journalists said it was the first time they heard "bicha" being used at a women's game in Brazil.
During the opening games of the soccer tournament on August 3rd, fans on the sidelines chanted the slur – often used during men's soccer in Brazil – directed at Australian keeper Lydia Williams, Canadian goalie Stephanie Labbe and other players.
GAME DAY!!!! You ready?? 3p PST/6p EST @NBCSN 💪⚽️🇺🇸 https://t.co/IpgnIj2fur #RIOmode #Rapinoeswag @therapinoebrand pic.twitter.com/BuotpET1Mo

— Megan Rapinoe (@mPinoe) August 9, 2016
According to Huffington Post, out gay U.S. midfielder Megan Rapinoe (above, with teammates) said the taunts were "personally hurtful" and put them down to "a mob mentality."
She added:
"I don't think most of those fans would have said that directly to my face. I don't think they mean it in that way. But they need to understand that that's how it's taken. They need to understand if all of you are willing to do that, what does that say to a gay player? Especially in the men's game. What does that say to players who are struggling to come out?
"I don't think that all Brazilians fans or everyone that was there last night is homophobic. But I think that they are complicit in it as long as they're doing it. FIFA can crack down as much as they want but it's up to individuals in the stands to not participate in that kind of behavior."
Following homophobic chanting by fans at the 2014 World Cup in Brazil, FIFA, the world soccer governing body fined the Mexican federation. FIFA also threatened further action which could include banning fans from future World Cup games in Mexico.
Yelling "zika" to taunt Hope Solo, sure, why not? But yelling "bicha" (look it up) at the gay players? Not so much. https://t.co/DtoDDsiRqv

— Elisabeth Vincentelli (@EVincentelli) August 7, 2016
Mexico's coach Juan Carlos Osorio later undermined attempts by the federation to prevent chants during games, arguing the terms "puta" and "bicha" are not offensive.
Watch an interview with Rapinoe below.
(Image via Instagram)