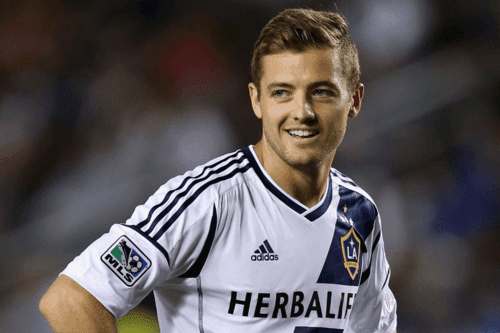 The United Soccer League (USL) has suspended an Orange County Blues player who allegedly repeatedly called out LA Galaxy defender Robbie Rogers a "queer" during a game last weekend.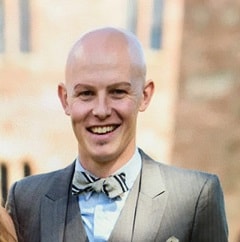 Following the Saturday match, Rogers claimed on Facebook that midfielder Richard Chaplow (right, though Rogers didn't identify him specifically in the post) "called me a queer repeatedly." Rogers added:
"To be honest, my initial reaction was shock. This is my fourth season back in the MLS and I've yet to hear another player use that or any other gay slur during a game.
"I quickly became enraged. I spent the drive home wishing I had channeled my inner Zidane and punched or head-butted this player…
"…I am proud more than ever that I had the courage to come out as a queer man. I feel so fortunate to have gotten to share my story with others and to have gotten to play this sport I love so much as an openly gay person. I am, more than ever, thankful to have teammates and a family that love and support me for the son, brother, partner, father and queer player that I am.
"I'm encouraging, as I did when I came out four years ago, all athletes to find the courage within themselves to come out. Listen, only you know when and how it's best for you to live your truth and share your story, but each one of you that chooses to make this courageous step is not just vastly improving your own life but literally saving others."
The Kansas City Star reports that a USL spokesperson said the decision to suspend Chaplow for two games and fine the player for an undisclosed sum was determined after video review, along with conversations with the referee and players and staff for both teams.
USL president Jake Edwards said: "The USL has zero tolerance for this type of behavior. We cannot, nor will we, condone any language that is counter to the values we have instilled throughout the USL."
https://twitter.com/Rchap04/status/768609435044294656
However, Chaplow has denied accusations that he is homophobic : "I have been banned for swearing at a player, not homophobic slurs. A former player with English teams Burnley, West Brom and Southampton, Chaplow told The Telegraph:
"At no point in the statement is a homophobic slur made reference to, and the simple reason for this is it didn't happen.
"I swore several times at Rogers for over reacting to a foul, but at no time was the language homophobic and no evidence has been found of this, hence the way the statement has been wrote.
"I feel it's important that people realise what the ban is for.
"I have a close family member that is openly part of LGBT community so to suggest I'm homophobic is ridiculous and there is no evidence to support this."
Supporting his player, OC Blues head coach Barry Venison said:
"I am delighted that Richard has been found 100 per cent innocent of the false accusations of him directing homophobic language towards an opponent.
"The fact is, Richard is being punished for swearing at an opponent and I'm disappointed at the severity of the punishment for "offensive and abusive language directed at another player".
"I encourage all news outlets, reporters and responsible human beings to read the USL statement and report what it actually says and not what they would like it to say."
(Chaplow image via Twitter)