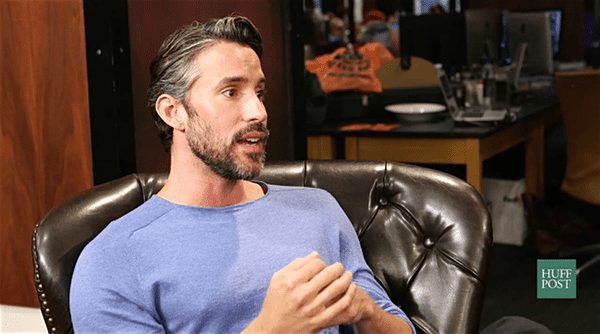 Logo's 'gay Bachelor', Robert Sepulveda Jr., addressed his past as a male escort in a new interview.
As we've reported, Sepulveda is set to be the centerpiece of Finding Prince Charming, which follows a bevy of gay suitors vying for Sepulveda's heart. Sepulveda, along with Finding Prince Charming host Lance Bass, sat down with The Huffington Post's Noah Michelson to talk about the rumors that he worked as an escort.
"The past is the past," Sepulveda said. "I was young and it helped through college. But what I want people to focus on is who I am today as an entrepreneur, as an activist. I started a non-profit and, you know, focusing on the show. That's really what I want people to focus on."
Bass quipped, "We all have our past. I was in a boy band. I'll admit it."
Michelson provided a personal note on Sepulveda's past sex work, saying, "I think, personally, there's something sort of great about that though…[that this show] is not just heteronormative."
Sepulveda also commented that being on the show allowed both him and the suitors to confront guilt and shame they have felt around various issues in their lives. "The show allowed me as well to close a lot of chapters in my life that I felt a lot of guilt around, a lot of shame and a lot of things I thought I couldn't share and express," he said.
Sepulveda also explained what he considers to be the definition of a 'Prince Charming.' "Being understanding and accepting, that to me is a Prince Charming," Sepulveda added.
Rumors about Sepulveda's past began to circulate last week after a Towleroad commenter suggested that Sepulveda once had profiles on Rentboy.com and daddyreviews.com. Another report (extremely work-unfriendly) suggested he also had a profile on Rentmen and went by the aliases Vincent Roman and JordanAthleteTen.
Towleroad commenter "Stno" then wrote,
"Robert Sepulveda also known as rentboy Vincent Romen (2006-2012). Was according to several (very trusted) clients on www.daddyreviews.com and rentboy.com known for having racist (no melanin) preferences. The non white contestants in this gay Bachelor edition are only PR added to make him seem not racist.
Hi most famous bedroom client is Marc Jacobs. His not very bright, if he doesn't realize that the Internet never forgets."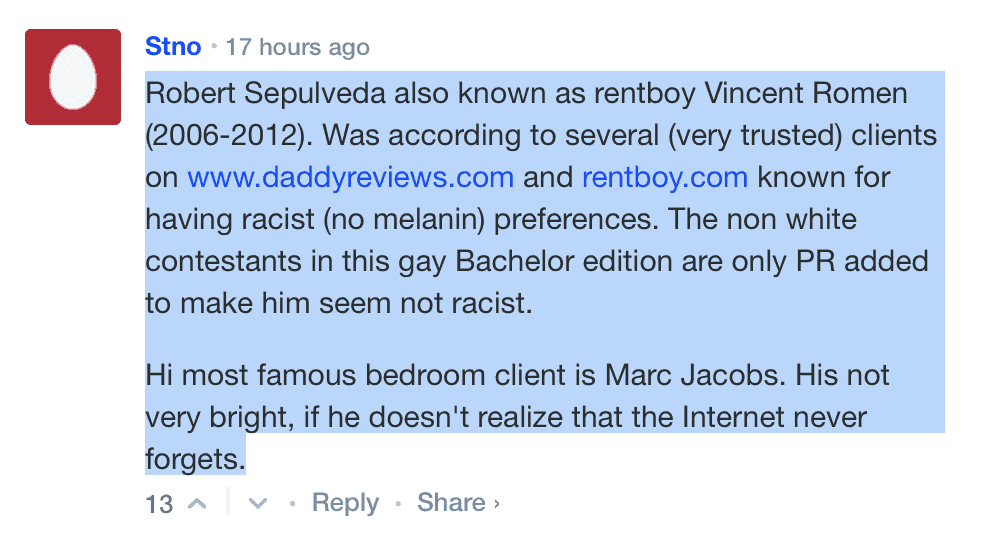 Kenneth Walsh pointed out that a now-defunct website called PartyWithBrandon had very work-unfriendly photos allegedly of Sepulveda from the time when he was supposedly working as an escort. The site also features reviews from his Rentboy page. The reviews all date back to 2006.
In the past week, graphic videos (again, very work-unfriendly) purporting to show Sepulveda have also emerged.
[Photo at right via Kenneth in the (212)/PartyWithBrandon)