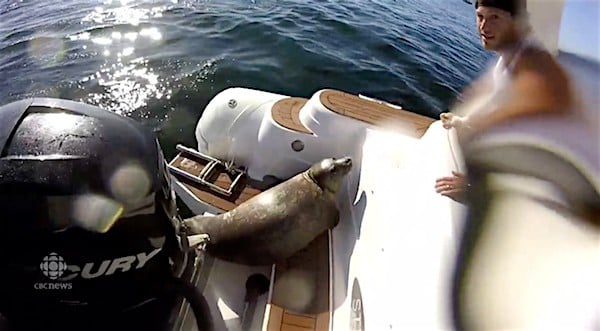 A very fortunate seal barely avoided becoming lunch for a pod of orcas on the Campbell River off the coast of Vancouver Island in British Columbia, Canada this week.
Writes Kirk Fraser:
"I was out with my parents and a family friends when we were looking for whales and a pod of 12 transient killer whales where chasing the seal. It ripped towards the boat in a desperate escape and scrambled on the deck. It fell of three times in panic and finally stayed on untill the whales gave up after about 30-45 minutes. Most intense epic experience ever. Love you Nature. What a lucky seal"
Watch:
Nick Templeman, who runs Campbell River Whale and Bear Excursions, was leading the group and caught more of the orcas searching for the seal after it had jumped aboard the boat.
"This seal was tossed around a few times and taken under quite a bit before seeking refuge among the boats in the area," Templeman told the CBC. "He got close enough to see us and beelined for the boat. He was on and off the swim grid [on the boat] two times during the encounter. The orcas kept sounding and coming up right behind the boat, searching. It was an amazing and intense encounter — the seal is the survivor."
Watch Templeman's incredible video: