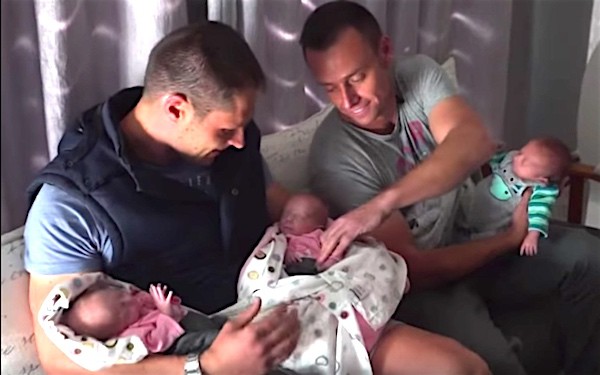 Christo and Theo Menalaou, a gay couple who just had triplets in South Africa, have made medical history. Their newborns Joshua, Zoe, and Kate are the first triplets ever born with both of their fathers' DNA.
International Business Times reports:
Theo and Christo Menelaou fertilised one egg each of a surrogate using their DNA.
The same-sex couple met the surrogate at a neighbourhood meeting during the trial of former Paralympian Oscar Pistorius who was their neighbour and friend in Pretoria, South Africa. During the pregnancy, doctors found one of the eggs split, making the surrogate pregnant with triplets.
Doctor advised them to terminate two of the foetuses but the couple pushed through with the pregnancy with the babies born prematurely in July, reports The Telegraph. The three babies weigh only a little over one kilogramme each. One of them would need to undergo heart surgery in the coming months.
Two of the infants are identical twins. They live in Pretoria. The IB Times adds:
They had to follow South Africa's strict law on surrogacy which meant the couple, the surrogate and her husband signed affidavits that they are all willing participants to the arrangement and no money was exchanged, excluding expenses incurred because of the pregnancy.
Watch: