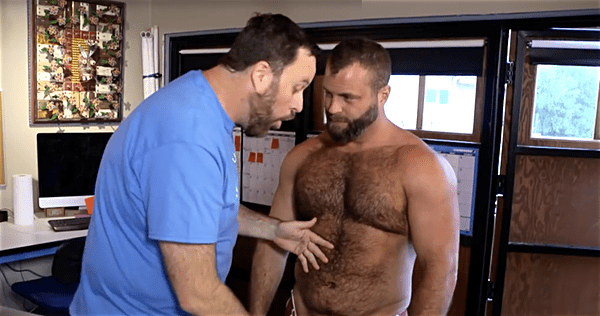 Campy gay web series Where The Bears Are has just released a new trailer for its fifth season.
Funded through a successful Kickstarter campaign, season 5 sees the bears head to Palm Springs for what at first promises to be a romantic honeymoon but then devolves into drama, murder and mystery. In other words, exactly what you'd expect from a show that describes itself as a furry gay mash-up of Murder, She Wrote and The Golden Girls.
More on what to expect this season via the show's producers:
Season 5 will thrust our hairy heroes into yet another thrilling mystery surrounding the honeymoon of everyone's favorite bear couple, Nelson and Todd! At the same time, Reggie's true crime TV show is sinking in the ratings and his personal life is in shambles. But a sexy new romance enters his life causing more complications than ever! Meanwhile, Wood continues to build his swimwear line called "Sporting Wood" with sidekick George Ridgemont but the business relationship begins to sour as boundaries are crossed and jealously arises. At the same time, Det. Winters and Martinez, now back together again, try desperately to get away and relax together and rekindle the flame but find themselves pulled in once again by our gang of crime-solving bear roomies. All while Nelson and Todd's dream honeymoon goes helplessly and shockingly awry! Season 5 will feature the usual parade of hot, sexy, hairy men that fans adore, the hilarious comedy everyone expects from the show, and a nail-biting climax which has made the show a worldwide hit!
Watch the trailer, below.