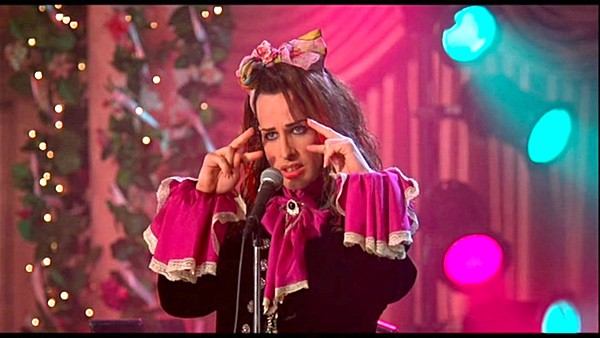 News broke yesterday that pioneering transgender actress and media personality Alexis Arquette died surrounded by loved ones shortly after midnight on September 11th. The iconoclastic star was an early, vocal advocate for trans people and a striking presence on screen and in the clubs.
Alexis' career differed from siblings David, Patricia and Rosanna's, often feeling forced into gay and trans roles, or embracing a more campy aesthetic.
"I enjoy being a character actor, I enjoy being different in everything," she told Index Magazine in 1999. "I want a private life, I want to be able to go to 7-11 and not get into a fight with a guy because he saw me in a movie, or not have people hitting on me simply because they saw me in a movie. You want to be wanted for who you are, not what you've done or who you've become, and it's hard. And I'm sure some people think, 'God, if I was famous or if I was an actor, I'd get laid all the time, boy would I use that.' And I mean, I've had that opportunity and it really doesn't make you feel good."
The rebellious actress is no stranger to grabbing headlines with her no-nonsense approach to interviews and unapologetic spirit. She was always a fighter, and never settled.
In a 2010 interview with New Now Next, Arquette said the most important issue the LGBT community needs to be fighting for is "Don't settle for anything less than 100% equality."
Rest in power, Alexis.
Celebrate Alexis' life and legacy in a few clips below.
Alexis' first appearance on screen was in the music video for The Tubes' "She's A Beauty." Alexis is the child riding the roller coaster. The video was directed by choreographer Kenny Ortega who went on to choreograph Dirty Dancing, Ferris Bueller's Day Off and High School Musical.
Technically, Alexis' first film performance was an uncredited appearance in Down and Out In Beverly Hills, but she had a much beefier part in Last Exit to Brooklyn, playing a transvestite named Georgette.
Prior to transition, Alexis made a brief cameo in Quentin Tarantino's beloved 1994 film Pulp Fiction. Check out her memorable scene above.
As an ode to one of pop's biggest gender-benders, Boy George, Alexis paid homage in two Adam Sandler/Drew Barrymore rom-coms. The first was as "George" in 1998's The Wedding Singer , followed by "Georgina" in 2014's Blended. Boy George even stopped his concert last night to acknowledge Alexis' passing.
https://www.youtube.com/watch?v=aNmNLd0gBac
One of the genres Alexis seemed to specialize in were campy "splatter" horror films, like Children of the Corn Part 5 and Jack Be Nimble. She also had a memorable scene in Bride of Chucky, which you can see above.
Alexis' work extended to the small screen as well, with stints on VH1's The Surreal Life and appearances on Friends, Xena: Warrior Princess and even Roseanne.
She was always very public about her transition and speaking openly about trans issues, much before Time Magazine declared The Transgender Tipping Point in 2014. You can watch her patiently explain some of the trans experience in a CNN clip above. She also starred in a documentary about her own experience, Alexis Arquette: She's My Brother, which debuted at the Tribeca Film Festival in 2007.
What's your favorite Alexis Arquette role?