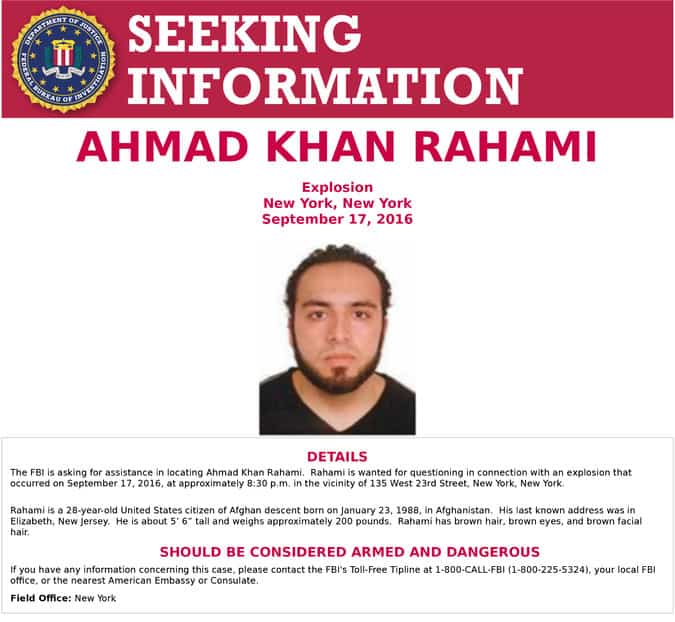 Ahmad Khan Rahami, the man police think was responsible for bombs being planted in Manhattan and New Jersey over the weekend has been taken into custody.
Rahami's arrest came after 36,000 NYPD officers went on heightened alert. The NYPD also issued emergency alerts to all cell phones in New York, providing a photo of Rahami and asking anyone with knowledge of his whereabouts to contact authorities.
Mr. Rahami, 28, was identified on surveillance video near the locations of both the bomb that exploded in Chelsea and another device that did not detonate a few blocks away. He was described as a naturalized citizen of Afghan descent who had been living with his family in Elizabeth, N.J.
It remained unclear whether there were other suspects who the police were searching for in the connection with the bombing.
Rahami was reportedly taken into custody after a shootout with police.
Ahmad Khan Rahami, suspect in NY & NJ bombings, seen being loaded into an ambulance https://t.co/xQKQoLv7XQ https://t.co/MvXSlYgc6T

— CNN (@CNN) September 19, 2016
According to CNN, "The shootout happened Monday in Linden, New Jersey, a local and federal law enforcement official said. Rahami was taken to an ambulance in a stretcher with his right shoulder bloodied and bandaged." The news service added, "Two officers were hit in the shootout with Ahmad Khan Rahami in Linden, New Jersey, the mayor of the nearby city of Elizabeth s said. One officer's vest was struck, and the other was shot in the hand."
A law enforcement official with knowledge of the case spoke with the NYT and says evidence obtained by police suggests "Mr. Rahami was connected not just to the Manhattan explosion in the Chelsea neighborhood, but also to a bombing that took place earlier on Saturday on the Jersey Shore," as The Times put it:
"We don't know his particular ideology or what his inspiration was or whether he was directed or whether he was inspired," the official said. "We don't have any of that."
"We have a lot to connect him to the Seaside Heights device, to the 27th Street device, to the 23rd Street device," the official added. "And in all likelihood the Elizabeth train station device — which is a half-mile from his residence. So, the ideology, the connection to international terrorism, we might flesh that out as we go through the results of search warrants, looking for computers, discs, things like this. Search warrants that we did Sunday night at the residence in Elizabeth."
Watch a video from the NYT, below.