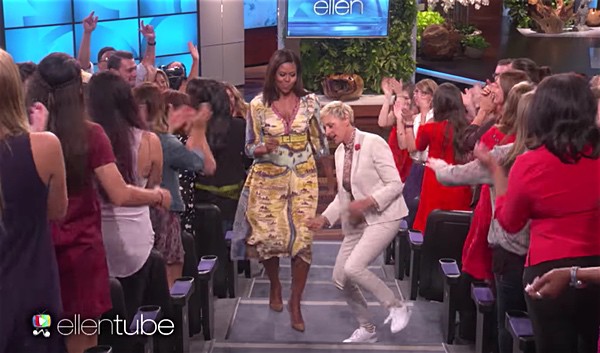 First Lady Michelle Obama joined Ellen DeGeneres to co-host the show with her today and of course it got started with the two of them dancing in the audience.
Watch:
FLOTUS sat down for a chat about her eight years in the White House and said that the thing she'll miss the most about the White House is the people. She talked about her daughters Sasha and Malia and how they've grown up, and the White House memories she'll take with her.
They played 'Oops My Water Broke' and doused Golden State Warrior basketball star Stephen Curry with water balloons:
Finally, they attempted to take a selfie and were surprised by Bradley Cooper who has grown a big billy goat beard.
Cooper attended the 2014 White House State Dinner. Without his underwear.
"I had one tuxedo it didn't fit. I was so nervous it was gonna rip, and so I decided last minute to 86 the underwear," said Cooper.
Quipped Ellen: "Because if it should rip, it's much better to not have underwear on."
"For us," said FLOTUS. "It's good for us. Right ladies?"