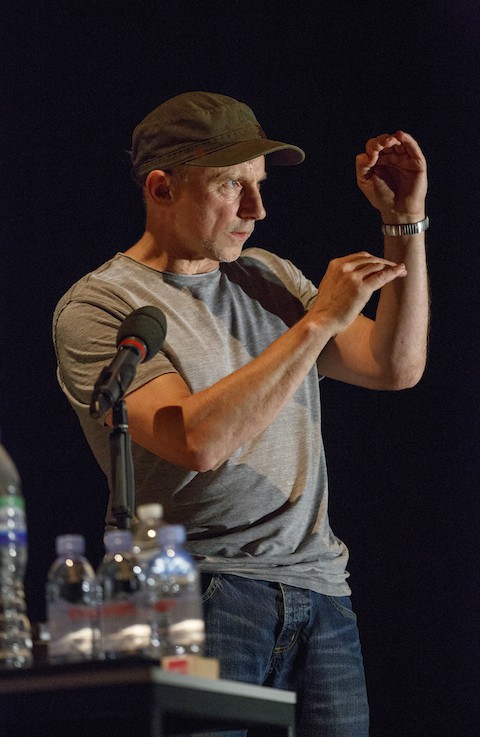 There's no doubt that audiences have rarely attended a Broadway show quite like The Encounter, which opened last night at the John Golden Theatre.
Upon taking your seat, you'll find a pair of Walkman-era headphones draped over the back. Place them on your head, and you'll hear a test to make sure you have them on the right way around. Simon McBurney, who conceived, directed, and performs the piece, is likely already on the sparsely laid stage. Or perhaps the play has already started and you don't even know it. He's casually sneaky like that.
As he speaks into one of your ears and then the other, by the use of a mic that looks like a mannequin head, you may feel a twinge of excitement. There's sound-studio foam rising to the ceiling at the back of the set (designed by Michael Levine), and a desk to the side with a few more microphones. The voices start multiplying; McBurney dazzles with some homemade sound effects. This is going to be nothing like Cats.
If anything, The Encounter is like watching the wizard at work behind the curtain. Except the results of his tireless labor feel more like an antiquated audio book than the wonders of Oz — a tale from a time when a white man conjuring life lessons from his encounter with an indigenous tribe seemed less arrogant, passé, and numbingly Eurocentric.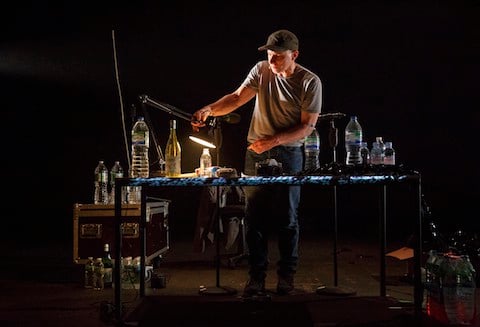 The production, from London-based company Complicite, is inspired by the real-life experiences of a photographer for National Geographic named Loren McIntyre, who claimed to have both discovered the source of the Amazon River and communicated telepathically with an isolated tribe of native people there in 1971. McIntyre's story is documented in Petru Popescu's 1991 book Amazon Beaming, from which McBurney mines its details.
The questions (or Questions) raised here about the nature of time, the blurring of boundaries between fiction and reality, and the tensions between civilization, consumerism, and nature feel plucked from the pages of '70s sci-fi novels and colonial narratives like Joseph Conrad's Heart of Darkness. This is not to say they are not interesting to ponder, but two long hours of hearing these quandaries rehashed in the curious, detached tone of a British anthropologist doesn't lead to earth-shattering revelations.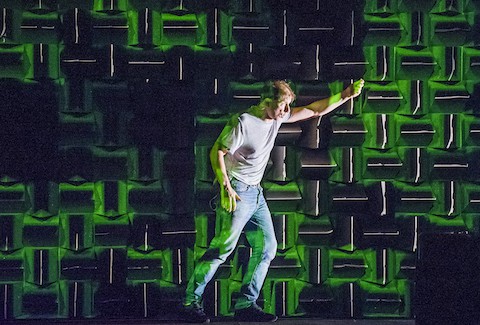 Alternating between narrating the story and embodying McIntyre himself, McBurney is a remarkable performer of incredible stamina. With the help of transporting audio effects, he summons up rich soundscapes that incite the audience to imagine the smallest details of the rain forest floor and his journey through it.
Had McBurney handed off his director's hat, the piece may have benefited from some cutting and shaping from an outside perspective.
But as ingenious as the show's presentation may be, if you've ever dozed off to a podcast in the dark, you have some idea of the challenge that awaits at the Golden. And if you ever tire of listening to white men, yes, mansplain lessons they've learned — let's face it, mostly about themselves — through their encounters with people who are unlike them (good heavens!), then you may want to pass altogether.
Follow Naveen Kumar on Twitter: @Mr_NaveenKumar (photos: joan marcus, tristram kenton)