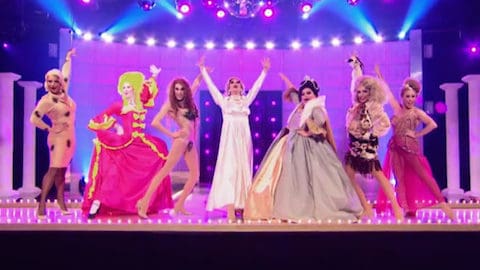 How strong is this season's cast of All Stars on RuPaul's Drag Race? Strong enough to make even the typically terrible Lucian Piane musical nonsense enjoyable.
Last night's celebration of the Baddest Bitches in Herstory was the usual hacky Piane camp cheese, but nearly universally decent performances helped elevate the proceedings just a touch.
A strong showing in the main challenge put even more pressure on the girls to turn it out on the runway. Who rose to the challenge and whose time in the race is now herstory?
Let's discuss all that and more below!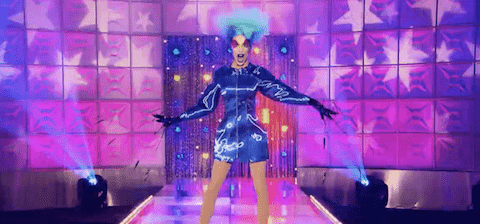 This week's main challenge had each gal portray a famous bad girl from history, and it was an eclectic mix. There's Eve, of "Adam and" fame. There's Catherine the Great, Helen of Troy, Marie Antoinette and Princess Di. I might've picked Joan of Arc, Susan B. Anthony, Amelia Earhart, even Hillary Clinton instead, but, as is the case with most of these musical numbers, nonsense reigns.
I will admit this is one of the better big musical acts, with at least a few stylistic flourishes and comedic moments to make it better than, say, the Bitch Ball. None of the ladies truly bomb, though Katya struggles to make Princess Di — one of the most beloved and tragically lost figures in modern memory — "fun."
The task for the runway called for the future of drag, which played heavily to the strengths of the more creative queens. Detox's silver bodypaint Fifth Element runway glamour snatched her a top spot, and Alyssa's dynamic Annie Oakley performance earned her honors despite a messy runway look. Katya's "solemn" Di and Ginger's "Pigs In Space" futuristic ensemble landed both in the bottom two.
Here's where things get complicated. The queens had all decided they would be very objective and judicious in their eliminations based on the judges' critiques each week, which sounds very fair in theory. In practice, however, things get complicated. Technically, Katya got the far worse critique, no one would debate that. But! If you're looking at overall performance and the cumulative critiques of the judges, Katya has been a stronger player. So, the question becomes, are we making eliminations based on this sole week's performance or all the week's up until this point? And at that rate, should you consider how they did on their own seasons? How well you've seen them perform on tour? How many Instagram followers they have? The list goes on.
So, the ladies' agreement to be fair and impartial with these decisions began to crack under the slightest pressure. Alyssa bested Detox in a lip synch that, honestly, I found pretty underwhelming considering the titans competing. Plus, it was to Taylor Dayne's classic Hi-NRG anthem "Tell It To My Heart," easily one of my top 10 favorite songs of all time. I mean, just watch this music video and try to tell me they didn't do this tune a disservice.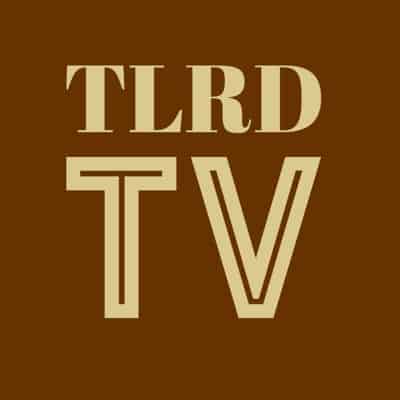 Anyway, Alyssa wins, sends Ginger home, and next week all the girls will cry foul that she broke their deal and isn't playing fair, even though she totally is and completely made the right move. #drama.
Here's where the queens stand: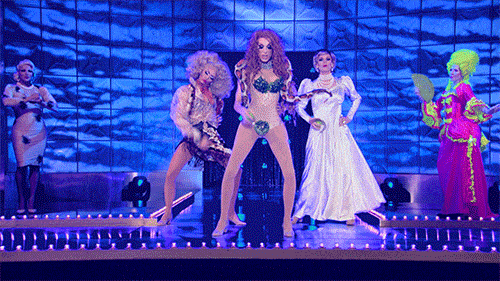 1. Although it wasn't her strongest showing, I still think this is Alaska's to lose. She did decently by the choreo, which is a big win for her, and I think her runway was better than most without stealing the show. I could watch her and Ru exchange guttural space screams all night.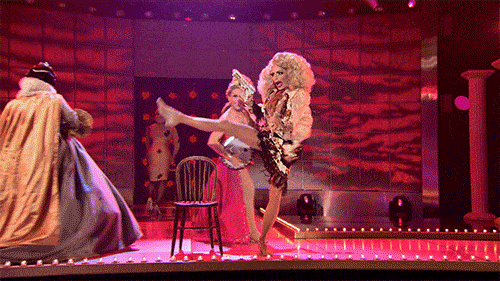 2. There's no other way to slice it: Alyssa's Annie Oakley killed. I obviously concur with Phi Phi's assessment that Alyssa is more of a GIF-star than a comedian (though I could not disagree more with her pronunciation/spelling of "GIF"), but, in this context, Alyssa shined. Ms. Edwards is all about physical humor, and this was right up her alley. She's better when someone else is writing the material, even if that person is Lucian Piane. I thought her future drag was sloppy, and her lip synch was more hair-flip-ography than anything else, but no one came close in that Herstory lesson.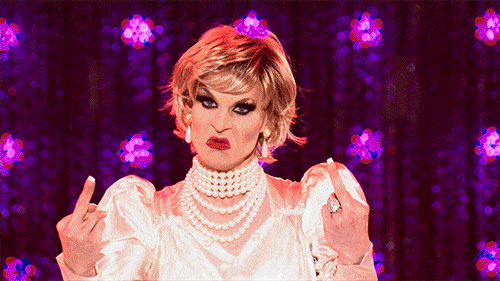 3. This week's stumble aside, Katya is still a top contender. To be fair, Princess Diana is just not that funny. She's not campy, and she's totally revered. It's tough to give her the full John Waters treatment. Even her music was so much less stylized than Eva Perón's Maddona-shading tango or Eve's Britney-inspired steamy pop. Agree that her future drag wasn't the showstopper that others were, but this was not her time to go home.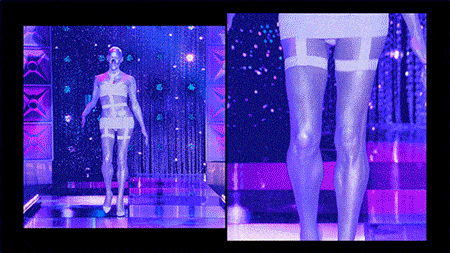 4. Detox paid good money for that body, and I'm glad she's getting to put it to good use. As Marie Antoinette, Detox served up some neon artistry, but the actual performance felt a little tired. I'm not impressed by the signature Detox jaw wobble, and was it just me or was her lip synch off? If some of the other ladies didn't falter so much on the runway, I don't think we'd see her on top.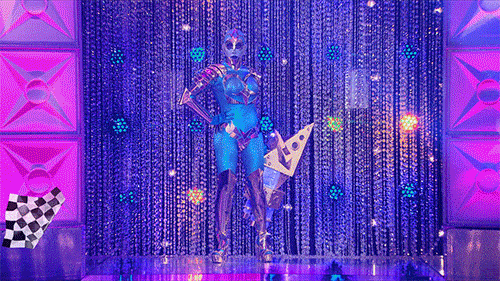 5. This is the Phi Phi drag I've been waiting for, serving us full-on Karen Gillan in Guardians of the Galaxy Nebula realness. Her Helen of Troy material was one-joke that was hammered into the ground with all the subtlety of a guitar smash, on which I guess she delivered.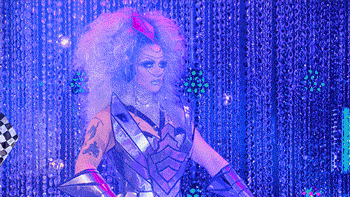 6. It was totally apparent that Roxxxy is a makeup artist when she stomped onto the runway. Her mug was great, but that outfit, gurl. What a waste of everyone's time. That was some future of Duane Reade Halloween costume realness.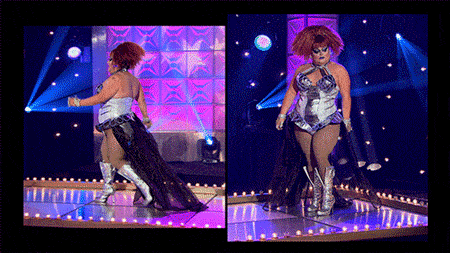 7. Ginger began this episode incorrectly asserting that her Snatch Game was good and her fashion was on point on the runway last week. She was wrong on both counts. This week, her performance in the main challenge was a standout, but her runway was embarrassing. This season she's been far more toad than glamour, and it was her time to hop back home.
How would you rank the queens this week?