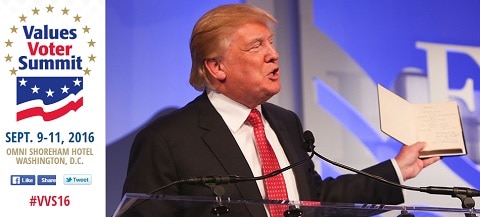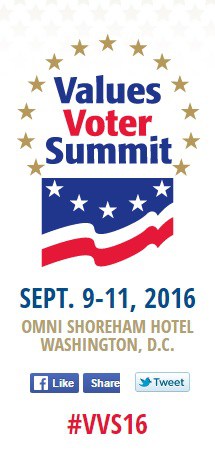 Donald Trump is once again scheduled to appear at listed hate group the Family Research Council's (FRC) Values Voter Summit this weekend.
Despite claiming to be a better "friend of LGBT Americans" than Hillary Clinton, Trump will appear alongside activists including well-remunerated FRC leader Tony Perkins, Peter Sprigg, anti-gay litigation group First Liberty, American Family Association's Bryan Fischer, Michele Bachmann, the Benham brothers, Rick Santorum and reality tv star Phil Robertson.
Also featured at the conference will be exhibitors including Americans for the Truth About Homosexuality, Family Watch International, Watchmen on the Wall and the Liberty Counsel.
Currently under attack for billboards advertising ex-gay conversion therapy, members of Parents and Friends of Ex-Gays will also appear at the event. Organizations will pay FRC up to $12,000 to appear at the conference.
The conference takes place at the Omni Shoreham Hotel, Washington, D.C., today through Sunday.
Watch a LIVE STREAM of the hatefest below. You could check the schedule here if you've got any favorites you just can't miss.