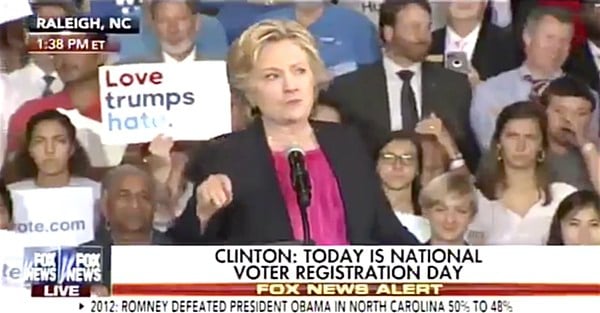 Hillary Clinton blasted anti-LGBT HB2 law on the campaign trail in Raleigh, North Carolina on Tuesday.
Said Clinton:
"Think about everything that's at stake in this election. The very mean-spirited wrong-headed decision by your legislature and governor to pass and sign House Bill 2 has hurt this state. But more than that it has hurt people. It has sent a message to so many people that you're not really wanted. You're not part of us. I think the American dream is big enough for everybody."
Watch:
.@HillaryClinton takes a stand on #HB2 that tells trans people they don't belong: "I think the American Dream is big enough for everybody." pic.twitter.com/lDfiwps5yy

— Human Rights Campaign (@HRC) September 27, 2016
Republican lawmakers, who rushed passage of HB2 last spring in a specially-called session in order to stop Charlotte's LGBT non-discrimination statute from going into effect, said they would consider repealing HB2 if Charlotte first repealed its ordinance, which protects LGBT people from discrimination.
Charlotte's mayor last week said no to that compromise.
And Governor Pat McCrory planted fake questions at a press conference, posed by an unwitting moderator, to avoid having to answer real questions about the anti-LGBT HB2 law that has cost the state millions of dollars in lost revenue.
McCrory has at least 395 million reasons not to want to answer questions about HB2. That's the amount, in dollars, that the law has cost the state, according to a recent estimate from Wired magazine.
And McCrory has reason to worry politically. The latest RealClearPolitics polling average has the governor trailing Attorney General Roy Cooper by 47.8 to 44.2.