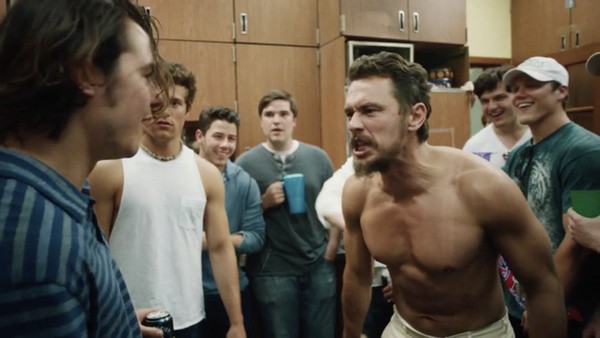 As his frat brothers (including one played by Nick Jonas) look on, James Franco taunts a pledge into punching him in a new clip from the hazing film Goat, which hits select theaters and VOD platforms this week.
As we reported earlier:
Goat follows a 19 year-old boy, reeling from a terrifying assault, who enrolls into college with his brother (Nick Jonas) and pledges the same fraternity. What happens there, in the name of "brotherhood" tests the boy and his loyalty to his brother in brutal ways.
For the uninitiated, Goat is based on a memoir by Brad Land, published in 2004.
The first trailer for the film underscored the violent, machismo and also homoerotic elements at play in frat life.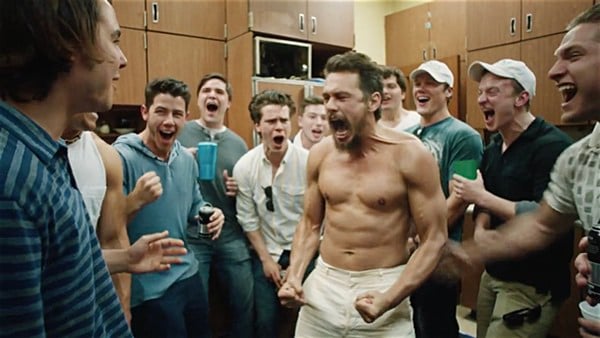 Here's an official synopsis of the film, via The Playlist: 
Reeling from a terrifying assault over the summer, 19-year-old Brad Land (Ben Schnetzer) starts college determined to get his life back to normal. His brother, Brett (Nick Jonas), is already established on campus and with a fraternity that allures Brad with its promise of protection, popularity, and life-long friendships. Brad is desperate to belong but as he sets out to join the fraternity his brother exhibits reservations, a sentiment that threatens to divide them. As the pledging ritual moves into hell week, a rite that promises to usher these unproven boys into manhood, the stakes violently increase with a series of torturous and humiliating events.  What occurs in the name of 'brotherhood' tests both boys and their relationship in brutal ways.
Watch: