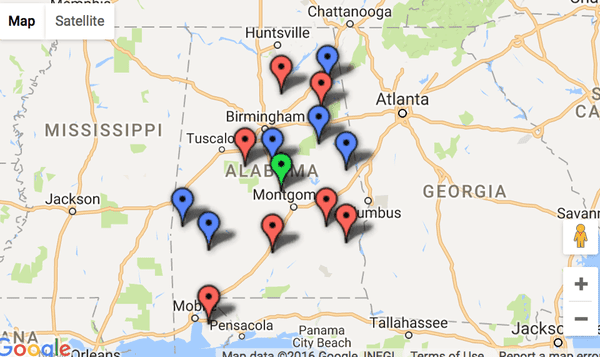 Eight counties in Alabama are still refusing to issue marriage licenses to any couple so that probate judges in those counties will not have to issue licenses to gay couples.
On Tuesday, AL.com spoke with representatives of 14 of 15 county probate courts that gay marriage advocates identified as having indicated in recent months that they would not grant marriage licenses. Calls seeking comment from Geneva County Probate Judge Greg Hamic's office were not immediately returned.
Six of the judges said Tuesday that they are now issuing the licenses, but employees of Autauga, Choctaw, Clarke, Cleburne, Covington, Elmore, Pike and Washington counties confirmed that their probate judges are not currently granting any marriage licenses.
[…]
Judges can legally refuse to perform any marriage ceremony, and representatives of the eight probate judges who refuse to issue licenses – as well as those of Bibb, Chambers, Clay, Coosa, Crenshaw, and Marengo counties, which are currently issuing licenses – said Tuesday they were declining to preside over any marriage ceremonies. Federal law makes clear that individuals cannot be forced to perform wedding ceremonies, an issue that mainly arises due to a presiding person's religious beliefs.
None of the 8 counties have stopped providing licenses just to gay couples. However, there remains little doubt as to the motivation behind the decision. "There is no doubt that the counties that are not issuing licenses to anybody have taken that approach because of the same sex-marriage decision," said Randall C. Marshall, legal director of the American Civil Liberties Union (ACLU) of Alabama.
The probate judges are legally defending their choice not to issue any marriage licenses by claiming they're not explicitly discriminating. As one spokesperson for a judge who refuses to issue licenses said, "The Supreme Court said you can't discriminate against individuals. He's not discriminating because he's not issuing licenses to anybody in Pike County."
Gary Wright II, a gay disabled veteran and prominent activist who previously challenged Alabama's gay marriage ban, said of the probate judges in question, "We thought this was over but, sure enough, Alabama will be the last state in the nation to get through this … Everyone thinks – especially after the Supreme Court win – that this was settled and everyone's moved on."
Wright now is seeking a gay or straight couple to challenge the probate judges in court. "They deserve the same rights as citizens in any other county, and I don't buy that they should have to travel or to drive. The Constitution applies to everyone," Wright said.