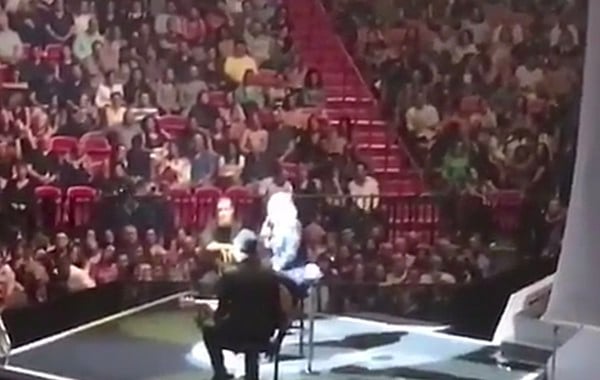 Though as a Brit she can't vote in the US election, Adele gave a full-throated endorsement of Hillary Clinton at her Miami concert, at which Clinton was in attendance.
"Don't vote for him," Adele told her audience at the American Airlines Arena, referring to Donald Trump.
She added: "I am English, but what happens in America affects me too…I am 100 percent for Hillary Clinton. I love her, she's amazing."
The endorsement received shrieks of approval from the crowd.
It was a great birthday present for Clinton, who turns 69 today.
Democratic nominee Hillary Clinton makes a surprise appearance at American Airlines Arena & Adele urges Miami voters not to vote for "him". pic.twitter.com/lSuiOgu9Ee

— Day One Adele Fans (@DayOneAdeleFans) October 26, 2016
Adele with Hillary Clinton in attendance at Miami concert: "Don't vote for him!" @AAarena #Adele (via Aaron Resnick) pic.twitter.com/cAJCokgSvW

— Adam Kuperstein (@Adam4NY) October 26, 2016