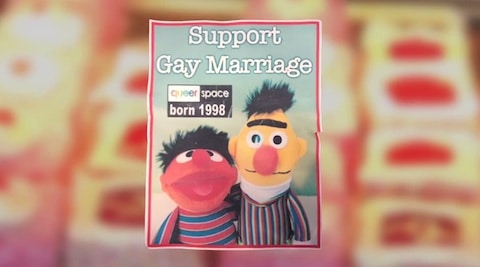 Ashers Bakery, a bakery in Northern Ireland involved in a high-profile "religious freedom" discrimination case in which it refused to bake a pro-gay-marriage themed cake, has lost its appeal, The Guardian reports:
The court of appeal in Belfast on Monday upheld a previous judgment last year that Ashers Bakery had discriminated against a customer on the grounds of sexual orientation.
The family-owned firm in the original case was also ordered to pay £500 compensation to the local gay rights activist Gareth Lee, whose legal action was backed by the Equality Commission for Northern Ireland.
Lee had tried to buy a cake depicting the Sesame Street characters Bert and Ernie below the motto 'Support gay marriage' for an event to mark International Day Against Homophobia in 2014.
In an earlier ruling at Belfast County Court, district judge Isobel Brownlie said:
"The defendants have unlawfully discriminated against the plaintiff on grounds of sexual discrimination. This is direct discrimination for which there can be no justification."
In delivering their judgment, Morgan rejected the argument of lawyers for Daniel McArthur and his family that the bakery would have been endorsing gay marriage equality by baking the cake.
"The fact that a baker provides a cake for a particular team or portrays witches on a Halloween cake does not indicate any support for either," the lord chief justice said.
Following the judgment, Daniel McArthur, flanked by his wife Amy, said: "This ruling undermines democratic freedom, religious freedom and freedom of speech."