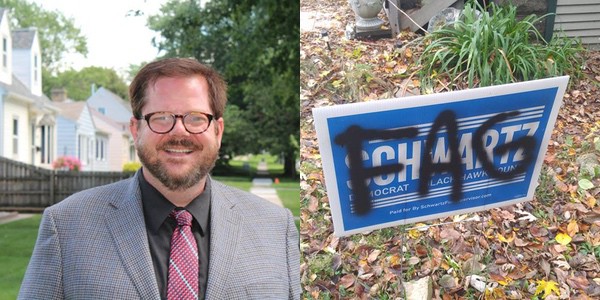 Chris Schwartz, a gay candidate for Board of Supervisors in Black Hawk County, Iowa, says that he is the victim of a hate crime after campaign signs on his property were vandalized and a Bible verse calling for death to gay people was sprayed on his front door.
The alleged vandalism followed an online argument with a local Christian group, Cedar Valley Patriots for Christ, which had attacked him for organizing an annual PrideFest event in Waterloo, The Courier reports:
In black paint across his door reads "Lev 20:13," a likely reference to Leviticus 20:13, a Bible verse about a man lying with another man being an abomination. The verse ends with "They shall surely be put to death."
The slur "fag" was painted on a blue Schwartz campaign sign, and "Trmp" was painted on a Clinton-Kane sign. Other candidate signs in his yard had black lines sprayed across them.
A Schwartz sign in a neighbor's yard — some 20 feet from the damaged signs — was untouched.
Schwartz posted about the vandalism Thursday morning on his Facebook page:
The Christian group denies having anything to do with it and says that Schwartz is committing a hoax to further his campaign and said it would help pay for the costs of repairing the vandalism.
Schwartz, who called Patriots for Christ a "hate group" while arguing with them on social media, also criticized his Republican opponents in the race for not taking a stand when he was being attacked by the group.
Police are investigating…