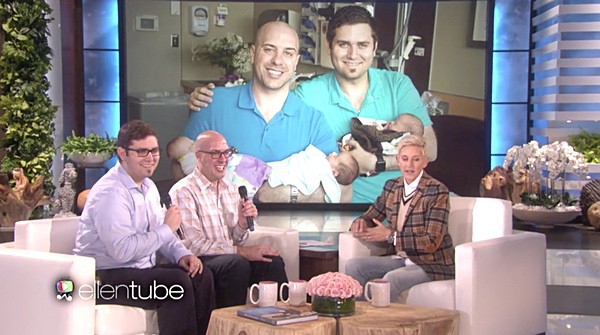 Sometimes, Ellen helps folks out just because she can, and takes suggestions from viewers on who she should help out.
Such was the case with a gay couple, Adam and Justin, who decided to father a child with a surrogate and ended up with triplets – and an unexpected tripled financial commitment.
Wrote the couple's friend Autumn to Ellen: "They are wonderful fathers who are struggling with the unexpected finances, but are ecstatic about their new family. Ellen, you have helped them get through so much. They watch your show every day and love your kindness and work you've done for the LGBT community."
The triplets made the trip on a plane as Adam and Justin went to visit Ellen and she asked them how they managed to get through the flight.
"We played a game that was really helpful. It was called Watch Daddy Drink a Vodka. That was very nice."
Watch: