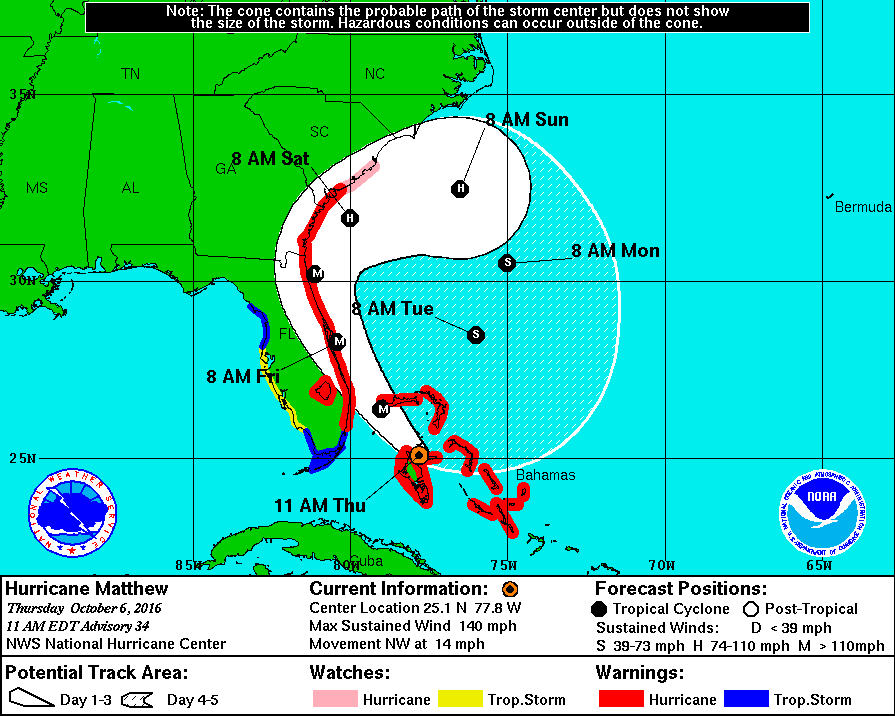 HURRICANE MATTHEW. Hurricane barrels toward Florida and may hit as a Category 4 storm. Many models show it looping around in Atlantic and striking state again. "When it comes closest to South Florida Thursday night, it is forecast to be producing winds of 130 mph, a low-end Category 4 storm that can cause "catastrophic" damage, according to the hurricane center. About 150,000 people were ordered evacuated in Palm Beach County Wednesday night, as Hurricane Matthew's projected course shifted closer to South Florida."
To all our readers in the Sunshine State as well as Georgia and the Carolinas. Please make appropriate preparations and stay safe. Wishing you the best…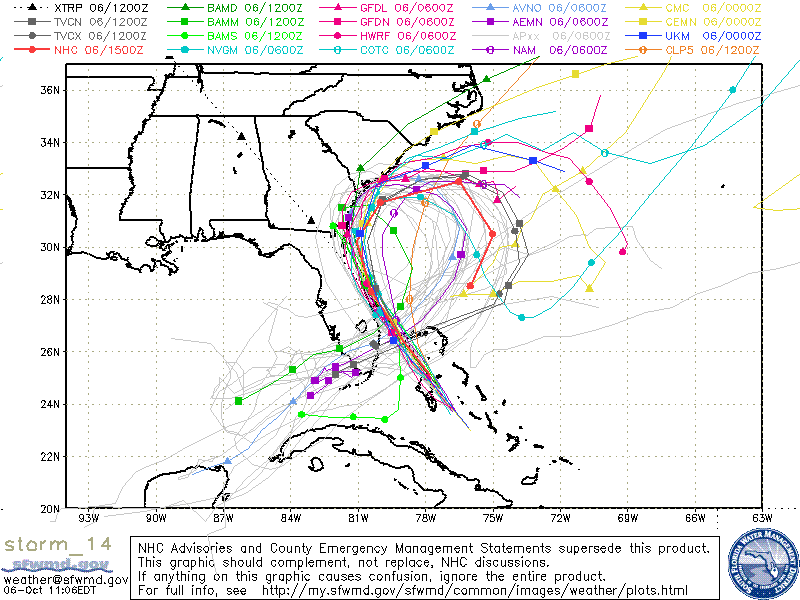 MIKE PENCE LIES. New Clinton ad destroys each of them.
At the #VPDebate, Mike Pence tried really, really hard to deny pretty much everything Donald Trump has said and done. Let's replay the tape: pic.twitter.com/5XNKyFX6az

— Hillary Clinton (@HillaryClinton) October 5, 2016
FOX WARS. Sean Hannity tweets at Megyn Kelly for accusing him of favoring Hannity for i his interviews.
https://twitter.com/seanhannity/status/783850273420738560?ref_src=twsrc%5Etfw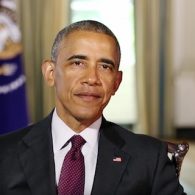 BARACK OBAMA. President's approval rating hits new second term high: "President Barack Obama's job approval rating hit 55 percent in a new poll released Thursday, the highest that number has been at any point during his second term in office. The CNN/ORC poll released Thursday marks the seventh consecutive month that Obama's job approval numbers have been above 50 percent. His job approval number is up 4 percentage points over the previous CNN/ORC poll and is up 11 points relative to a similar CNN/ORC poll conducted in mid-September, 2015."
DEATHS. Gloria Naylor dies at 66: "Gloria Naylor, whose debut novel "The Women of Brewster Place," became a best-seller, a National Book Award winner and a TV miniseries released through Oprah Winfrey's production company, has died at the age of 66. Naylor's death was confirmed Monday to The Associated Press by Cara Reilly, an assistant at the literary agency Sterling Lord Literistic. Reilly provided no other details about Naylor's death."
ORLANDO. Pulse survivors say the massacre has created better ties between the gay community and locals: "I would've never believe so many people would get involved, no matter what their beliefs are," said club head of security Neal Whittleton. "There was definitely a big outpouring of love for the community."
TORONTO. New gay sports bar Striker opens. "The whole idea behind Striker is to bridge that gap between the predominantly straight — I would say straight — sports leagues and the gays," says Lee. "Toronto has the most gay sports leagues in all of North America."
TECH. Google, Disney and Apple probably won't be buying Twitter. Stock plunges afterhours: "While company execs have been unable to grow the business, many think a link with a larger entity would spur Twitter's potential."
BORG/MCENROE. First image of Shia LaBeouf and Sverrir Gudnason as John McEnroe and Bjorn Borg from the upcoming film.
First image of Shia LaBeouf and Sverrir Gudnason as John McEnroe and Bjorn Borg from the upcoming movie "Borg/McEnr… pic.twitter.com/wRn5M9IA7c

— TeleMeetUp (@TMUCall) October 4, 2016
STUDY. People who oppose gay marriage are less likely to value expert opinion: "A newly released survey shows that Americans who care about expert opinion and scientific evidence hold different policy positions than those who don't — across party lines. The survey, conducted in January by the independent research organization NORC at the University of Chicago and released Tuesday, asked 1,007 Americans online and by phone about how they seek out and process information. About four in five respondents said that it is easier now than it was five years ago to find useful information, but four in five also said that they are sometimes or often overwhelmed by how much information comes to them."
THIRSTY THURSDAY. Antonio Tavares.
https://www.instagram.com/p/BKCM7v1jTwf/?taken-by=tonybra
https://www.instagram.com/p/BJvxMAdjK3H/?taken-by=tonybra
https://www.instagram.com/p/BI8oVCUDKhw/?taken-by=tonybra
https://www.instagram.com/p/BH0S1aiAfSe/?taken-by=tonybra