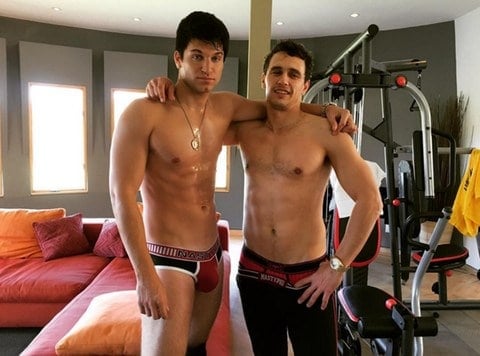 James Franco and Christian Slater were on TODAY recently to discuss their new movie, King Cobra.
As we've reported, the film follows the rise of gay adult film star Brent Corrigan and the murder of his Svengali, gay adult film producer Bryan Kocis.
The actors were often scantily clad in the film, wearing little more than speedos. And Franco reportedly found out what his co-star Keegan Allen was packing in his briefs.
Talking on TODAY, Franco said his only problem with the getting into the skimpy swimsuits was that "Keegan stuffed his speedo so big."
Franco added that crew and cast who came to set were rather shocked by Keegan's bulge. "Like, everybody that came on set was like, 'What? What?'" Franco said.
https://www.instagram.com/p/BL9PnkZB79j/
The TODAY hosts were stunned by Franco's revelation. Asked Tamron Hall, "What do you so stuff your speedo with?"
"Look at the movie! He's got the biggest bulge," Franco replied.
Franco went on to explain that he knows Allen stuffed his speedo because when he asked the wardrobe department for a special 'sock' to cover his member during filming, wardrobe told him that Keegan had taken all of them.
According to Franco, Allen stuffed them in his speedo and wrapped them together with tape.
Which he then demonstrated.
Watch Franco talk about 'the sock', below.