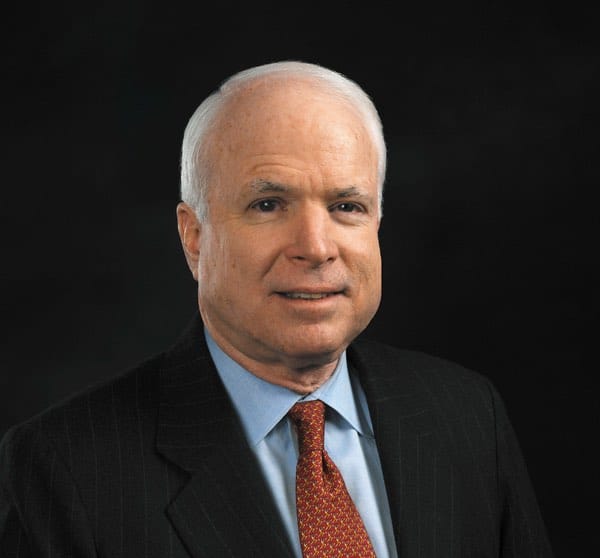 Senator John McCain has promised that Republicans in the Senate will do anything within their power to 'unite against' any nominee Hillary Clinton would appoint to the Supreme Court should she be elected president.
McCain made his vow while shilling for Republican Senator Pat Toomey of Pennsylvania on a Philadelphia radio program, as CNN reports.  
Said McCain, "I promise you that we will be united against any Supreme Court nominee that Hillary Clinton, if she were president, would put up. I promise you. This is where we need the majority and Pat Toomey is probably as articulate and effective on the floor of the Senate as anyone I have encountered."
McCain's remarks appear to directly contradict his official statement on President Obama's nominating Merrick Garland to the Court.
In March, McCain said of Garland's nomination, "This issue is not about any single nominee – it's about the integrity of the Court."
McCain added, "With less than a year left in a lame-duck presidency and the long-term ideological balance of the Supreme Court at stake, I believe the American people must have a voice in the direction of the Supreme Court by electing a new president. The last time the American people spoke, they elected a Republican majority to the Senate to act as a 'check and balance' on President Obama's liberal agenda – a responsibility I cannot ignore. We must allow the people to play a role in selecting the next lifetime appointment to the Supreme Court."
During his interview with the Philadelphia radio station, McCain also commented that he wasn't sure if Trump is the superior candidate in this election based solely on the question of who he would nominate to the Court. As McCain explained it, "I hear him saying a lot of different things."
As for why he withdrew his endorsement of Trump, McCain said, "It's not what he said, my friend, it's what he said he did. What he said he did. I mean, bragging is one thing. I've been in a lot of locker rooms, my friend, and frankly I have not heard comments like that."
Listen, below.
[soundcloud url="https://api.soundcloud.com/tracks/288677603″ params="auto_play=false&hide_related=false&show_comments=true&show_user=true&show_reposts=false&visual=true" width="100%" height="450″ iframe="true" /]