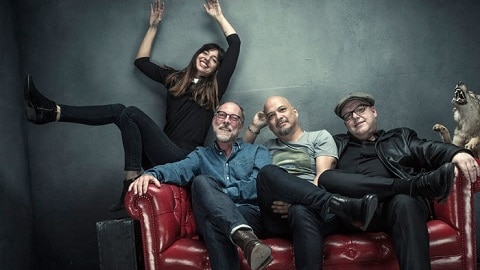 This week in New Music: Pixies (above) find their mojo on their second reunion album Head Carrier, Bon Iver fails to throw you off the scent on the not-really-obscure 22, A Million, Hope Sandoval duets with Kurt Vile and London-based Keaton Henson takes the sad-boy singer-songwriter mantle with gusto.
---
Pixies – Head Carrier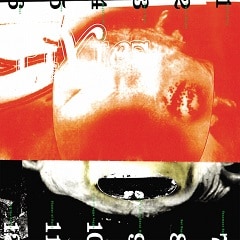 When Pixies split on bad terms in 1993, the news was not unexpected but represented a blow to alternative music on the scale of the Cocteau Twins implosion four years later. While a Cocteau Twins reunion has never been on the cards, there was always hope that Black Francis, Kim Deal and co. might at some point get back together. The hope among fans was that it wouldn't a be a greatest hits cash-in reunion. They were mistaken. When Kim Deal left in 2013 it could well have signalled the end. Deal was replaced with Kim Shattuck who was unceremoniously dumped four months later. Another implosion seemed likely but Shattuck was replaced with Paz Lenchantin the following month and since then it's been business as usual. Unfortunately that business led to 2014's Indie Cindy, an unexceptional collection that tried too hard to emulate the glory days. Not to worry – you could still go see the lads knock out the classics and pretend the last 20 years never happened.
And so on to Head Carrier the second album from Pixies 2.0.  The low point on Head Carrier is the throwaway "Talent" which sounds like Sesame Street on steroids. However, ignore that 131-second stinker and you have the best you could possibly expect from new Pixies music. There are some songs here that would happily fit into Surfer Rosa or Doolittle, chief among them the title track, the brilliant "Classic Masher," "Might As Well Be Gone" and "Bel Esprit" which remind listeners of Pixies ear for a killer melody and "Um Ghagga Lagga," a classic, Pixies dirty rock out. Fans might be tempted to dismiss "All I Think About Now" as a cynical effort to emulate Kim Deal on "Gigantic" but if a bunch of middle aged misfits can some up with a song this good, who gives a shit?
Closing with the gorgeous "All the Saints," Head Carrier is a glorious return to form. Hopefully they stick with it.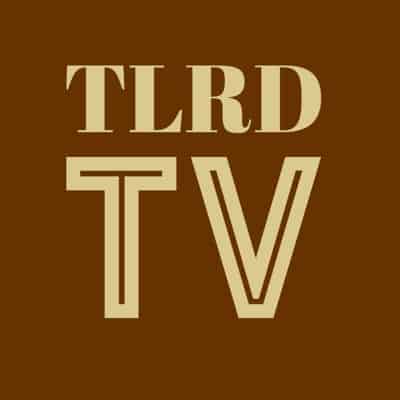 ---
Bon Iver – 22, A Million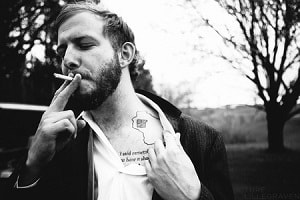 Bon Iver does a glitchy, obscure, auto-tuned miasma with song titles like "10 dEAThbREasT **," "666ʇ" and "8 (circle)"? Who saw that coming.
Following a 5-year break from Justin Vernon, 22, A Million is his unpleasant reaction to finding fame.
Vernon apparently is considering giving up music and "opening a cafe." Following his second album, he says he says he suffered from panic attacks, depression and writer's block. Yeah, we've heard it all before and have become desensitized to the notion that someone is uncomfortable in the public eye because everyone-wants-to-be-famous.
Give the guy a break. If Sia can cover her probably lovely face with a mass of hair, Vernon is entitled to only allow photographs that partially obscure his.
If you were thinking that only the song titles are obscure, think on. Take this lyric: "Darling don't a failure fright, time's the raker, and I'll rack it up, I'm unorphaned in our northern light, dedicoding every demon." Ok, so.
Opening with "22 (Over S∞∞N)" – try requesting that one – Vernon is obfuscating and confusing his fans. He has said he wants to play to people who have "hopefully never heard of us." Second track "10 dEAThbREasT **" is like Bon Iver channeling Bjork. Odd. "755 – CRΣΣKS" is just Vernon on autotune. It's like he is challenging people to give up and move on. And it is a challenge but stick with it until track four, "33 ('God')", and you vere closer to friendly ground.
22, A Million is not the change of direction Vernon has suggested. Closing track "00000 Million" is a simple and gorgeous piano-based ballad. Anthony Hegarty wanted to confound people as Anohni earlier this year. What is Vernon at? Who knows but on "00000 Million", the refrain "the days have no numbers" is a direct rip-off from Fionn Regan who has faded into obscurity following great success with his first two albums. Maybe Vernon wants you to get over him and move on. You won't.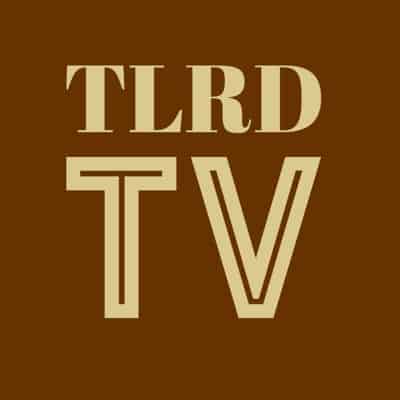 ---
Hope Sandoval & the Warm Inventions – "Let Me Get There"
Last month, Hope Sandoval (of Mazzy Star) and Colm Ó Cíosóig (My Bloody Valentine) announced that Hope Sandoval & the Warm Inventions will release a new album called Until the Hunter in November.
Just dropped is a video for the single "Let Me Get There," a collaboration with Kurt Vile. A perfect combination of Sandoval's deep vocals and Vile's laconic delivery, watch the video – directed by Sandoval – below.
https://www.youtube.com/watch?v=HGtDIEvg0Ag
---
Keaton Henson – Kindly Now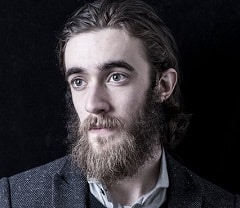 If you were left disappointed by Damien Rice's just ok efforts on 2014's My Favourite Faded Fantasy you might just find a friend in London-based singer-songwriter and official "reclusive" Keaton Henson. When Rice fans waited patiently for a new album for eight years they were entitled to expect something exceptional. When instead they got eight often-meandering tracks with just a couple of Rice-style classics many felt cheated. At this rate Rice will have recorded 40 songs in total by the time he gets the state pension.
Not so Henson whose Kindly Now is his third album in four years. Henson is also a singer-songwriter who appeals to desperately hormonal boys in their teens and early 20s. If you like your songs insular, heartfelt and heartbreaking you couldn't do much better than Henson. "The Pugilist" sounds most like a Damien Rice song – simple acoustics, a deeply personal outlook ("You're proof that I'm breathing and that I still need to be loved") leading to a swirl of orchestra and percussion bombast, completed with a mellow retreat into falsetto shoe-gazing. All women are bastards basically.
Of course I'm being mean because people are generally taken aback by young men singing so openly about actual heartbreak, not the shoo-bee-doo One Direction brand.
For some, Henson's fragile vocals will be a deal breaker from the opening note. However, if three-am-on-a-Monday ponderous songs of love and loss sound like your thing, you'll frankly love Kindly Now. Tip – listen to closing track "How Could I Have Known" first. If it brings you to tears, start back at track one and fall in love. If it makes you roll your eyes, move on.