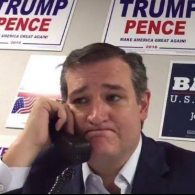 LOW POINT. Ted Cruz phone banks in Texas for Donald Trump and "Freedom": "Because freedom's just another word for nothing left to loose, including your own dignity."
LATE NIGHT. Armie Hammer enjoys NYC meat–street meat.
MUSICAL REBUTTAL. Melissa Etheridge performed a song on Watch What Happens Live! about being warned by Angelina Jolie's Olivia Pope.
COSMOS AND MANOLOS. Sarah Jessica Parker hints that Sex and the City 3 is in the works: "I described it as being not on the table but in the warming drawer."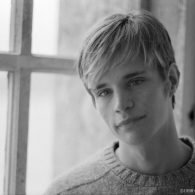 NEVER FORGET. Matthew Shepard was attacked in Laramie, Wyoming 18 years ago today: "With each passing year, we honor Matt by continuing to achieve monumental steps toward true equality, and we honor you for making it possible. We remember Matt and all those who have suffered discrimination, harm and loss at the hands of bigotry and hatred, and we continue our work to prevent others from experiencing a similar fate."
HILLARY FOR AMERICA. This woman has the best Hillary hat possibly ever. 
HOMOCONS. Matt Drudge: Feds are lying about intensity of Hurricane Matthew intensity to make exaggerated claim about climate change.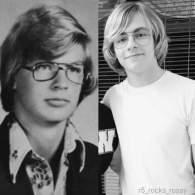 JEFFREY DAHMER. Disney star Ross Lynch is the spitting image of the serial killer in new movie My Friend Dahmer.
CAKE WARS. Anti-gay Oregon bakery Sweet Cakes by Melissa shuts down: "Co-owners Aaron and Melissa Klein would not bake a cake for lesbian couple Laurel and Rachel Bowman-Cryer  "because that goes against their Christian faith," the Oregonian reported. In April 2015 the Kleins were ordered to pay the couple $135,000 in damages. The money is being held by the state while the Kleins appeal."
2016 PROBLEMS. CA candidate for US Senate Loretta Sanchez decided it was a good idea to dab at the end of her closing remarks in a debate against Kamala Harris.
Did Loretta Sanchez #dab at end of Senate debate with Kamala Harris? What do you think? @NBCLA pic.twitter.com/YeAb0zYWsj

— Adrian Arambulo (@AdrianNBCLA) October 6, 2016
HAMILTON. The Schuyler sisters want you to vote.
https://www.youtube.com/watch?v=PnglHn_AnVw
THURSDAY THIRST. Model Matthew Prince.
https://www.instagram.com/p/BIYK1hvAPig/
https://www.instagram.com/p/BGXWLkEOWf-/
https://www.instagram.com/p/BHAWUbwuWXR/
https://www.instagram.com/p/BEtPmWOuWeh/