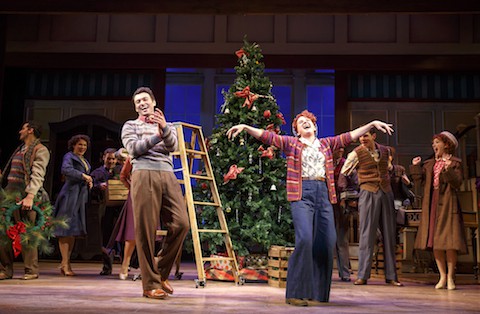 Rom-com fans of all walks will feel right at home with Holiday Inn, the new Irving Berlin musical that opened at Studio 54 last night. Based on the 1942 film of the same name, Roundabout Theatre Company's production achieves a similar feat as recent hit An American in Paris — breathing fresh life into a classic movie musical with a book updated to suit modern ears and stars who make familiar songs sound new again.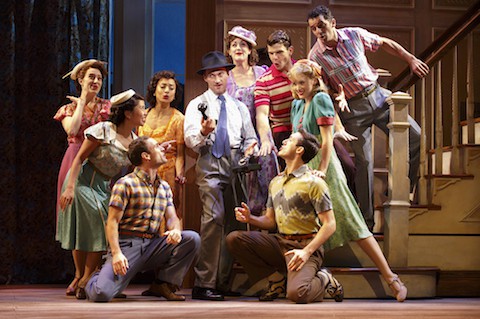 Bryce Pinkham, who broke out in 2013's A Gentleman's Guide to Love and Murder, is a chief draw of director and co-writer Gordon Greenberg's relatively modest yet winning production. Stepping into the role created on screen by Bing Crosby, Pinkham's honeyed vocals and almost deranged charm make him the one to root for in the show's concentric love triangles. Corbin Bleu (of High School Musical fame) steps in for Fred Astaire, hoofing impressively through Denis Jones' buoyant choreography.
(It's particularly refreshing to see diversity reflected in Bleu's principal role and throughout the entire company, given the film's problematic depictions of racial stereotypes and — yikes! — full-on blackface number, obviously nowhere to be found here.)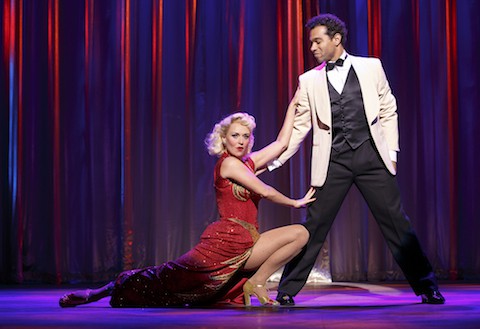 Making up the first triangle are Jim (Pinkham), Ted (Bleu), and Lila (Megan Sikora), a song-and-dance trio doing rounds on the circuit. Jim's ready to give up the life and take Lila to the farm he's just purchased in Connecticut; Ted and Lila want to keep going till they make it big. Jim retreats to the country and soon enough hits it off with the former owner of the farm, Linda (Lora Lee Gayer, serving the best of Lea Thompson), who, wouldn't you know it, used to have show business dreams of her own.
To keep the farm afloat, Jim and Linda light on the idea of producing shows there on holidays (when Jim's gaggle of dancer friends have time off to hustle up from New York to perform). Second banana extraordinaire Megan Lawrence takes on a role carved from the black character Mamie in the film, here a spastic yet extremely helpful handywoman who fixes up the farmhouse and meddles in Jim's love life.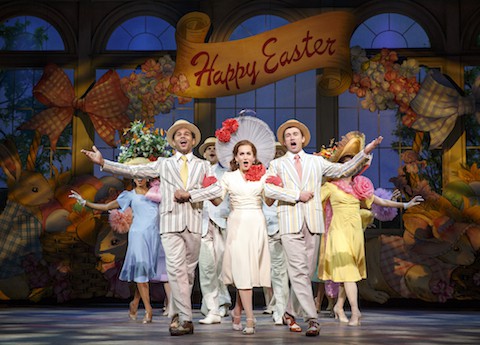 The string of numbers that ensue are, of course, holiday-themed ("White Christmas" gets its due), and coincide with the crisis and resolution of both the love and quest-for-fame plots. If by Easter we're ahead of the formula, Bleu's one-man Fourth of July tap battle (punctuated with firecrackers) is enough to pin you to your seat. Though it's the company tapping while jumping rope at Christmastime that might get you on your feet.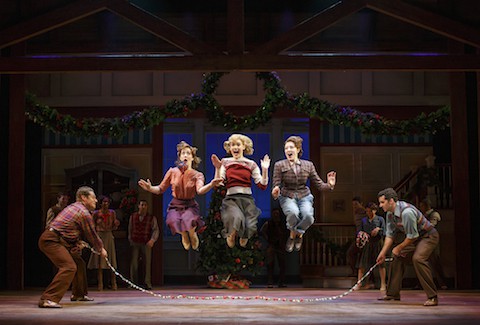 Whether audiences are inclined to the show's old-timey feel or nostalgic for its Berlin score (and at the Roundabout, many will be), it's Greenberg's book with co-scribe Chad Hodge that lends Holiday Inn an easy humor, one that doesn't try too hard for laughs and often lands them one after another.
In an effective play of storytelling, song and dance are positioned in the characters' lives as remedies for what ails them — be it ambition, loneliness, love, or even ambivalence. In those ecstatic moments when they're lost in performing and nothing else seems to matter, the musical's message, which Ted borrows from a French poet, becomes clear: "Now and then it's good to pause in our pursuit of happiness to just be happy."
Follow Naveen Kumar on Twitter: @Mr_NaveenKumar (photos: joan marcus)