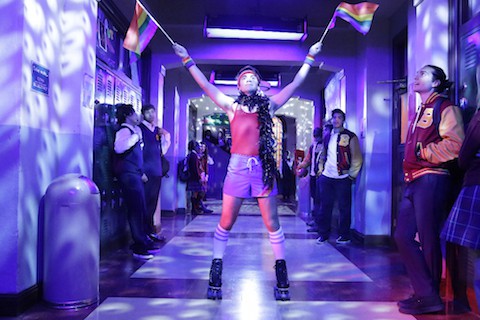 If you're tuning in tonight to see what all the controversy is over ABC's new sitcom The Real O'Neals, prepare to be a bit let down. The family-friendly half-hour isn't nearly as salacious as its executive producer and inspiration Dan Savage, but its top-notch cast and creative asides lend the new series plenty of charm.
Very loosely inspired by Savage's own upbringing, the show follows the family foibles of the titular clan as they shed their seemingly perfect Irish Catholic image. It all comes out in one extraordinarily awkward church bingo night where it's revealed that the parents are on the road to divorce, the kids are dealing with eating disorders and thieving, and youngest son Kenny is gay.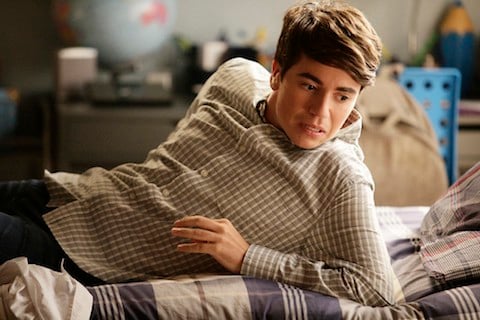 Those who have grown accustomed to ABC's lineup of black-ish, Fresh Off the Boat or The Goldbergs, will find The Real O'Neals fitting right in. Perhaps a little too well. Despite all the outrage from conservative groups, the series plays it pretty safe, sticking to the typical sitcom conventions. Some surreal, Scrubs-esque, fantastical asides add a little freshness, but the real reason to check out The Real O'Neals is its cast.
Newcomer Noah Galvin showcases some expert comic timing and the perfect sitcom sensibility. As a smart, young gay man figuring things out seemingly without any models or mentors, Galvin's Kenny is a perfectly balanced combination of adolescent awkwardness, naïveté and excitement. He's not some kind of sissy caricature, but the show also isn't afraid to have a little fun at his expense. Sure there are more nuanced portrayals of gay teens out there today, but, in a sitcom world, where everyone is an exaggerated archetype of some kind, having a complex young gay character that's treated with respect and not overly earnest kid gloves still feels a little like progress. Perhaps the fact Galvin himself is gay helps contribute to the character's well-roundedness. Regardless, he's a joy every time he's on screen.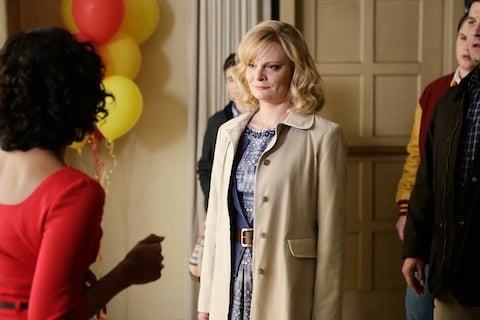 Similarly, the dependably excellent Martha Plimpton is a scene stealer, keeping Eileen O'Neal's wide-eyed, manic energy simmering beneath her composed church lady exterior. As the matriarch of a collapsing clan, we're supposed to enjoy watching the cracks develop in her perfect facade. Plimpton pulls it off without making audiences feel like they're rooting against her, because she has a knack for tempering her toughness with the right amount of heart.
Filling out the ensemble, Bebe Wood plays Kenny's sister Shannon in a similarly smarter-than-her-age style as she did on The New Normal, and it's just as effective here. Older brother Jimmy is the family dunce, but Matt Shively makes sure he's a lovable dunce at least. Finally, The O'Neal patriarch is brought to life by Jay R. Ferguson (Mad Men) as a typical sitcom dad buffoon.
https://www.youtube.com/watch?v=kw_SVzunzm4
Many of the funnier plot points from the pilot are going to feel familiar to anyone who's been following the promos for the series. It saps some of the spark from the first 30 minutes, but the subsequent three episodes screened for critics continue to improve. What these first four episodes lack in big belly-laugh moments, the series compensates with lots of quick bon mots and zingers delivered by Galvin, Plimpton and, to a lesser extent, Wood. Despite the big controversy, it's these small moments that illustrate the potential The Real O'Neals has to grow.
Sure it might not be the most innovative new show out there, but if The Real O'Neals taught us anything so far, it's that, hey, nobody's perfect.
You can see the first two episodes of The Real O'Neals tonight at 8:30 p.m. and 9:30 p.m. Eastern on ABC.