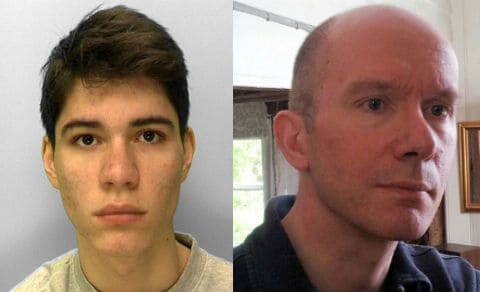 A British teenager has been found guilty of murdering a man after the two met via Grindr.
18-year-old Ben Bamford (above left) inflicted more than 40 injuries on Paul Jefferies (above right) in Mayfield, Sussex on February 23rd this year.
Bamford met Mr Jefferies via Grindr two years before the murder when he was aged 15. The pair resumed contact in December 2015 following a break.
Ben Bamford found guilty of killing Paul Jefferies in #Mayfield. Go behind the investigation→https://t.co/54CcPKP9lO pic.twitter.com/WSOkmdvJ7r

— Sussex Police (@sussex_police) November 22, 2016
The Independent reports that Bamford sought to rob Jefferies in order to pay off a drug debt of £400 (around $500). Bamford denied the charge of murder, claiming that Jefferies had "come on to him."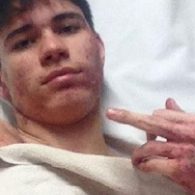 Bamford claimed he had met Mr Jefferies on the day of the murder in the hope he would give him money, as he had done in the past. He claimed self defense after Jefferies "got on top of me" and carried on having sex with him after being asked to stop.
After leaving his victim for dead, Bamford stole Jefferies' car and traveled to a hospital where he claimed he had self-harmed. Jurors were shown a selfie taken in hospital of Bamford flicking his middle finger.
His mother told jurors:
"I kept saying that I need to know what's happening. And then he shouted, 'I think I've killed somebody'.
"I had to ask him again because he was being very tearful and angry. I asked him again in disbelief – 'What?'.
"And he said again, 'I think I've killed somebody'. He then went on to his bed and laid there face down very upset and very tearful."
She added that she convinced her son to go to the police after she read details of a suspicious death.
According to the Evening Standard, Detective Chief Inspector Tanya Jones, who led the investigation, said:
"This was a horrific attack by a teenage boy who preyed on his victim with the aim of exploiting him for money.
"The level of violence he inflicted on Paul Jefferies was extreme and then he fled the scene in his victim's car. He showed no remorse, smirking for a selfie photo just hours later.
"However, the jury did not believe his story.
"Although this can never undo what he has done, I hope it will bring some justice for Paul's family, friends and colleagues."
The presiding judge said he needed "a little time for reflection" to consider the sentence, partly due to the fact Bamford was just 17 at the time of the murder.
(Profile images via Sussex Police. Bamford image via Twitter)