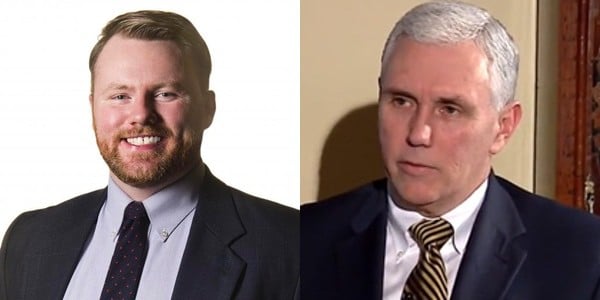 Patrick Burke, a lawmaker from Erie County, NY is trolling VP-Elect Mike Pence with a bill named for him that would ban gay conversion therapy for minors.
Pence said in 2000 that he was in favor of sending money allocated to care for people with HIV/AIDS to organizations that provide conversion therapy.
Burke called the practice "abusive" and "disturbing" in an interview with WBFO and has proposed a law titled the Prevention of Emotional Neglect and Childhood Endangerment:
That forms the acronym PENCE, a reference to Vice President-elect Mike Pence, who has supported funding the therapy.
"Mike Pence is probably going to have the most power of any vice president in the history of our country and he has openly advocated for conversion therapy. I want that to sink into people. I want them to realize it's a serious issue of abuse of children flatly, whether they are gay or not, it's abuse, then you have a man who is going to have enormous power over all of us, who advocates for it," Burke explained.
Burke said when he speaks to citizens about the issue, many are surprised to learn it is not illegal. There is no state law, but Gov. Andrew Cuomo issued a ban earlier this year ordering mental health professionals not to practice on those under the age of 18.
Burke, a Democrat, said he hopes all lawmakers consider his proposal bill as soon as possible, and expects it to be debated sometime next month and into the new year.
Burke has pushed for a ban on the practice for two years but hopes that the PENCE bill will gain traction.