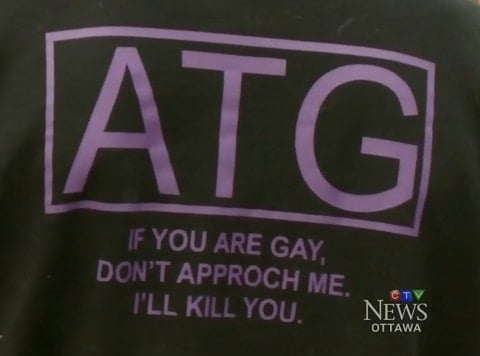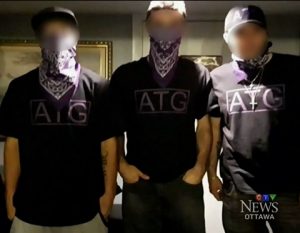 A Canadian man who is part of a group called ATG (Anti-Gay) has defended a t-shirt he wore which threatens to kill gay people.
18-year-old Ottawa native Julien Clément, who says he is not homophobic because he is "not scared of them," was seen wearing the t-shirt at Saunders Farm last weekend. "If you're gay," advised the t-shirt, "don't approch [sic] me, I'll kill you."
Whitney Martin, who took a photo of the t-shirt, said:
"It's hate speech in writing. It's threatening to kill someone because of their sexual orientation. It's not okay.
"We all have the right to free speech and to express our opinion, but that right doesn't allow us or protect us from threatening a group of people or promoting hatred against this specific group."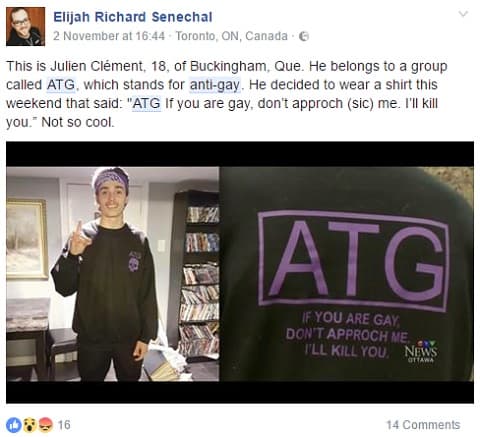 Although Martin reported the t-shirt to staff, Clément had left the premises by the time owner Angela Grant arrived on the scene.
https://twitter.com/EarlxGreat/status/793879208292446208
Grant said:
"To have something like that come up at the end of the 25th season is disgusting. If somebody's going to be that blatant about a statement like that, we will stand up strong and say no."
Police are currently investigating the incident and criminal defense lawyer Paul Lewandowski told CTV News that the t-shirt "could constitute Section 319 of the Criminal Code and could be prosecuted."
Clément says he has received death threats but isn't too concerned. "It sucks that we're not allowed to have whatever we want," he complained. "They can have a gay flag or a parade, but we can't have a shirt?"
Watch a report below.