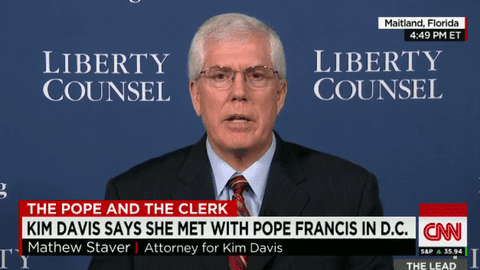 In a serious case of you couldn't make this sh*t up, Mat Staver, the head honcho at the anti-gay litigation group the Liberty Counsel, said that first responders at the Pulse nightclub massacre were traumatized because they had to "get tested for AIDS-related conditions."
Speaking on "Faith and Freedom," Staver – who called vigils following the massacre "homosexual love fests" – said the attack had nothing to do with targeting gay people and was rather a case of Islamic terrorism.
Right Wing Watch reports:
"[Holly] Meade claimed that while Omar Mateen, who carried out the attack, may have targeted the Pulse nightclub because he "was dealing with homosexual sin on his own behalf," the attack itself did not have "anything to do with killing homosexuals at all."
Staver agreed, insisting that while it was "very clear" that Mateen carried out the attack out of loyalty to ISIS, President Obama and others used it to promote the narrative that "it was the rainbow flag, it was an anti-gay issue."
Staver…went on to insist that local police who responded to the attack were traumatized because they had to "get tested for AIDS-related conditions" because of all the blood on the scene.
"In regards to the Pulse nightclub," he said, "as tragic as it is, some of these officers have no doubt gone through trauma as well because they were going through the Pulse nightclub, it was blood everywhere and, you know, they're having to get tested for AIDS-related conditions because they're literally walking in pools of blood."
In 2015, Staver and the Liberty Counsel defended marriage fan Kim Davis and campaigned for the serial divorcee to be featured on the cover of Time.
[soundcloud url="https://api.soundcloud.com/tracks/304131099″ params="color=ff5500&auto_play=false&hide_related=false&show_comments=true&show_user=true&show_reposts=false" width="100%" height="166″ iframe="true" /]