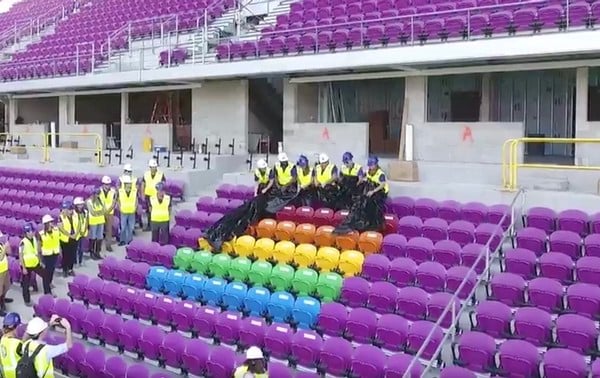 Orlando City Soccer Club has unveiled a permanent memorial to the 49 people killed in the Pulse nightclub massacre last year.
The memorial is comprised of a permanent section of 59 rainbow colored seats. Each seat is adorned with the message #orlandounited.
Always a part of our new home. #OrlandoUnited pic.twitter.com/S28OQd8nmG

— Orlando City SC (@OrlandoCitySC) January 4, 2017
Speaking at the unveiling, club founder and life president Phil Rawlins said:
"We are here to commemorate and unveil the 49 rainbow-colored seats that will sit permanently in section 12 of our stadium as a constant reminder of the senseless acts of June 12.
"These are regular season-ticket holder seats. We put them in section 12 because obviously we felt that was pertinent. It was June 12th last year when the tragedy happened. They are right down by the benches and will certainly be seen by everyone in the stadium."
As a future @ATLUTD fan, I tip my cap. Job well done. #Respect

— MPC (@mpcATL) January 5, 2017
According to MLSSoccer, the new stadium will hold its first regular season game when Orlando City host New York City FC on March 5.
While most people welcomed the memorial, some relentless arseholes took the opportunity to display their absolute inhumanity.
https://twitter.com/TheSportsGay217/status/816864288300298240
https://twitter.com/XBFIBE3/status/816876528122335232
https://twitter.com/RainMan91794/status/816847042467209216
Watch the unveiling video below.
(Image via Twitter)
The official unveil. #OrlandoUnited https://t.co/YDAcmx9z5N

— Orlando City SC (@OrlandoCitySC) January 4, 2017