A survey of 23 countries has found that despite recent legislation in states including Indiana and North Carolina, the U.S. still scores highly in terms of agreement with transgender rights.
MUST READ: First-of-its-kind survey ranks countries on their support of the #transgender communityhttps://t.co/18QgWpdZ2j

— Human Rights Campaign (@HRC) January 4, 2017
The survey asked if transgender people should be protected from discrimination by the government, allowed to use the restroom of the sex they identify with, allowed to have surgery so that their body matches their identity, allowed to marry a person of their "birth sex," allowed to conceive or give birth to children and allowed to adopt children.
Here are the results of the survey / 23 countries' attitudes on transgender rights https://t.co/68nFVFnbJQ pic.twitter.com/zY3drUMwLv

— Inter Webz (@BFinterwebz) December 29, 2016
The Buzzfeed survey puts the U.S. in 10th place behind Spain, Sweden, Argentina, Canada, Germany, the UK, Belgium, India and Australia.
The survey also found that while 50 percent of people in Brazil reported that they know a transgender person, only 26 percent of U.S. respondents said the same.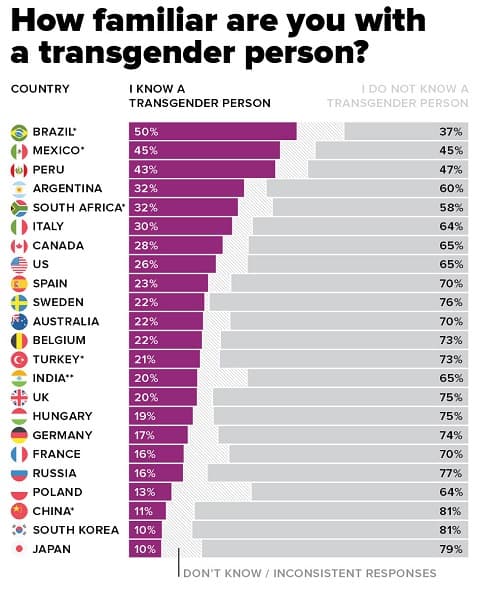 Another survey question asked if they would not like to have neighbors who are trans, gay or lesbian or of a different race ethnicity. While 19 percent of U.S. respondents said they would prefer to not have a trans neighbor, 10 percent said having a lesbian or gay neighbor would be a cause for concern and 7 percent said having a neighbor of a different ethnicity would be an issue.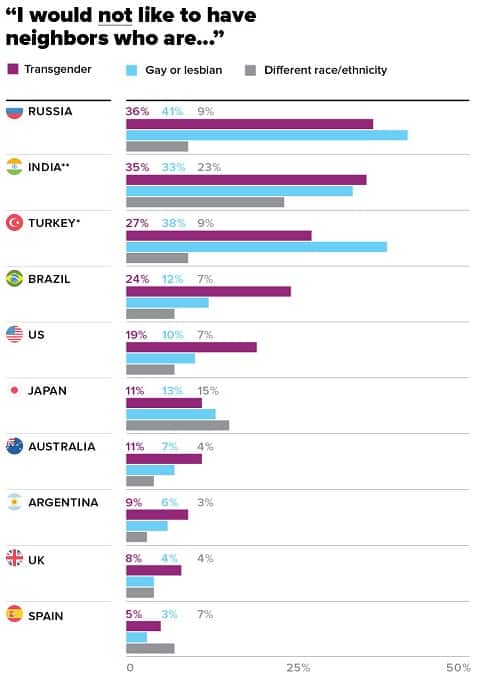 Unsurprisingly, Russia did not fare well in the survey. Overall, the country came last for trans rights. Twenty percent said that there should be no legal grounds for changing gender. Thirty six percent of people said they would not like to have a trans neighbor while a majority said that trans people have some form of mental or physical illness.
Watch a 2015 AP report on Russia banning transgender people from driving below.