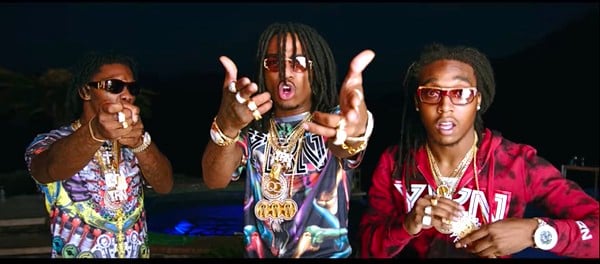 Migos, the Atlanta-based hip-hop trio that has raced up the charts with the hit single "Bad and Boujee", had a strong reaction when asked about iLoveMakonnen, the hip-hop artist who came out of the closet in January.
The group made its remarks in an interview with Rolling Stone, suggesting that Makonnen's sexuality undermines his credibility:
"Bad and Boujee" was the crazy shit that resulted. The track has put Migos at the forefront of a new wave of Atlanta hip-hop talent that includes friends Lil Yachty and Young Thug. All are wildly different MCs, illustrating the "diversity" that Quavo says is one of the things he most loves about Atlanta. And so I'm surprised by Migos' reaction when I mention iLoveMakonnen, the local MC who just came out as gay on Twitter. "Damn, Makonnen!" Quavo bellows after an awkward interlude. I mention support I saw online for Makonnen's decision. "They supported him?" Quavo asks, raising an eyebrow. "That's because the world is fucked up," says Offset. "This world is not right," Takeoff says. "We ain't saying it's nothing wrong with the gays," says Quavo. But he suggests that Makonnen's sexuality undermines his credibility, given the fact that "he first came out talking about trapping and selling Molly, doing all that."
He frowns. "That's wack, bro."
Makonnen was not the only hip-hop artist to come out in January either. Taylor Bennett, the younger brother and collaborator of Chance the Rapper, declared that he's bisexual.
Hip-hop has had a lengthy history of homophobia. It's great to see these artists breaking through those barriers.