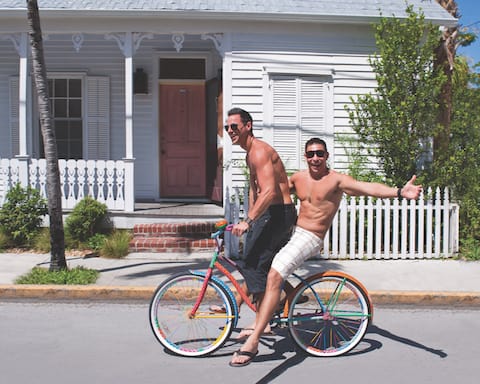 It's crazy to think we're still worrying about the winter blahs, but as snow pummels parts of the country, we're dreaming of some place much more tropical. Now's the time to start planning a gaycation that's close to perfect, but far from normal in Key West.
The area's rich LGBTQ history and welcoming attitude (Key West's official motto is "One Human Family") have made it a prime destination for gay travelers. There's plenty to please any type of vacationer, and Key West boasts a bevy of bars to keep any lush liquored up properly. But, let's face it, you haven't been working on that summer body for nothing. If you're heading down to Florida to soak up the sun, there are tons of outdoor opportunities to show off that new Speedo.
https://www.instagram.com/p/BQv1muwjeLW/?tagged=smathersbeach
The southernmost spot in the continental United States feels more Caribbean than Floridian, so come prepared for lots of sunbathing. Those seeking soft, sandy beaches should head down to Smathers Beach, the longest beach Key West has to offer. The sand is actually imported from the Bahamas and has to be restored every couple of years. Take advantage of this free beach's volleyball courts and picnic areas, but when it comes to taking a swim, there are other beaches with clearer waters.
Fort Zachary Taylor Historic State Park is located where the Atlantic meets the Gulf Mexico, and it makes for one of the best spots to snorkel in Key West. You'll see tropical fish and live coral along the rocky bottom. (But be sure to protect your pedicure and soft soles with some water shoes.)
Anyone worried about tanlines might want to save their outdoor activities for a trip on Key West's longest-running all-gay charter, Blu Q. Their all-male snorkel and sandbar adventure promises hours of clothing-optional tanning, swimming, kayaking and more. Most days offer five-hour daytime sails for gay men and sunset cruises for gay men and women.
Adrenaline junkies can take to the sky parasailing with Fury, or try one of Fury's jet ski tours around the island. You'll have the chance to scope out some of the area's dolphins, sea turtles or just soak in the sights.
Not all outdoor fun has to be had on sand or sea. The Key West Tropical Forest and Botanical Garden provides a gorgeous backdrop for a leisurely outdoor stroll. It's the only frost-free botanical garden in the continental United States featuring flowers, butterflies and even a resident bald eagle. Pack a lunch and enjoy the gorgeous courtyard's waterfall wall of tropical plants.
If winter's dragging you down, you can get your sunshine fix in Key West now or any time of year.