Singer-songwriter and music industry executive Tommy Page has been found dead of an apparent suicide at age 46, Billboard reports: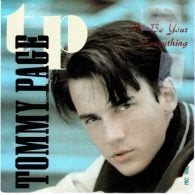 Page started his career as a recording artist for Sire Records and topped the Billboard Hot 100 with his single, "I'll Be Your Everything" in April 1990. The song was written by Page, along with Jordan Knight and Danny Wood of Page's tourmates New Kids on the Block. The group's Donnie Wahlberg, along with Knight, also had a hand in producing the track.
Page later returned to NYU's Stern School of Business to pursue his career as a music executive. He recorded nine studio albums and continued to tour throughout his career.
…"We are all mourning the loss of our friend and colleague Tommy Page," said Billboard Entertainment Group President John Amato. "He was a magnetic soul and a true entertainer. Our thoughts are with his family."
He is survived by his husband, Charlie, and their three children.
Page also worked for Warner Bros./Reprise Records, Billboard, Pandora, Cumulus Media, and the Village Voice at various points in his career.
Page's "Ill Be Your Everything":