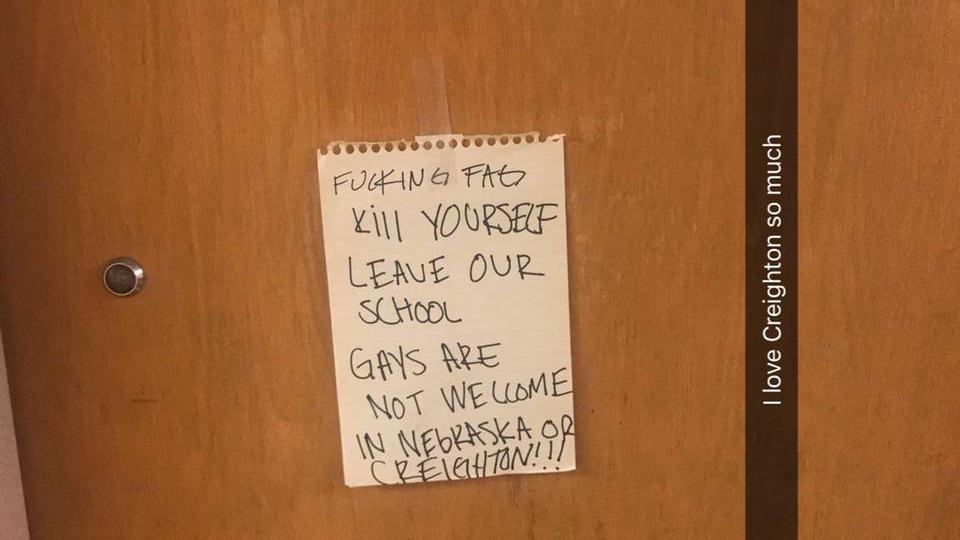 A student at Creighton University is sharing a note he received on his dorm room door.
The note read: "F**king fag. Kill yourself. Leave our school. Gays are not welcome in Nebraska or Creighton!!!"
Joseph Gray shared the note on Facebook and Snapchat and with WOWT 6 News:
After finding the note on his door, he took it to the university in hopes of finding who is responsible.
"I have to go on the street and worry about it every day," Gray said. "I shouldn't have to come back to where I sleep and worry about what I'm going to see."
The university is investigating what happened, sending a statement to students Friday that read in part, "The incident is a breach of the Jesuit values we all share as the Creighton community, values which bind us all in the common mission of ensuring Creighton is a safe, respectful, inclusive place."
"To tell someone to just kill themselves is not OK," Gray said.
Gray said he wants Creighton to show more commitment to helping LGBTQ students. Either way, he is hoping others can hear his story.
The university's Office of Equity and Inclusion is investigating the incident.