Hundreds of people attended a protest on Wednesday outside the Russian embassy in London in reaction to recent reports that more than 100 gay men have been rounded up in 'concentration camps', tortured, and some executed in the southern Russian republic of Chechnya.
https://twitter.com/stefanf28/status/852227076337934336?ref_src=twsrc%5Etfw&ref_url=http%3A%2F%2Fwww.standard.co.uk%2Fnews%2Flondon%2Fhundreds-protest-against-gay-concentration-camps-in-chechnya-outside-londons-russian-embassy-a3514026.html
London's Evening Standard reported on the protest:
Michael Salter-Church, co-chair of Pride in London, said: "It sends a shudder down the spine to hear about concentration camps in 2017."
He added: "Russia's abuses cannot be ignored."
Peter Scott-Presland, 68, said: "I wanted to show solidarity so they know they're not alone.
"They are being supported and we send them all of our love."
Steve Peck, 59, added: "This is happening internationally…it is unacceptable and has to stop."
Videos of the demonstration have been posted to social media:
https://twitter.com/h94day/status/852234763159166977?ref_src=twsrc%5Etfw&ref_url=http%3A%2F%2Fwww.standard.co.uk%2Fnews%2Flondon%2Fhundreds-protest-against-gay-concentration-camps-in-chechnya-outside-londons-russian-embassy-a3514026.html
So proud of my community #loveislove #Chechnya Peaceful show of love & solidarity outside @RussianEmbassy #Humanrights Well done @danophile pic.twitter.com/GdyvIM7wcM

— Linda Mason (@linda_mason4) April 12, 2017
#RussianEmbassy #London #Chechnya pic.twitter.com/IX5SDZA2GU

— Gray (@becky_101) April 12, 2017
Pink triangle of flowers outside the @RussianEmbassy now for the #ChechnyaProtest. Thank you to all who came. pic.twitter.com/PqfhNjrSOO

— Steve Taylor (he/him) 🇪🇺🏳️‍🌈 (@danophile) April 12, 2017
Numerous petitions have sprung up online urging authorities to take action regarding the situation.
A Change.org petition with more than 75,000 signatures as of this posting calls on the Prosecutor General of Russia to investigate the attacks on gay men.
An Amnesty petition with more than 83,000 signatures as of this posting calls for the Russian and Chechen authorities to investigate these abductions and bring those responsible to justice.
Those wishing to do more can email the Russian embassy in their country and demand answers. The list of Russian embassy contacts is HERE.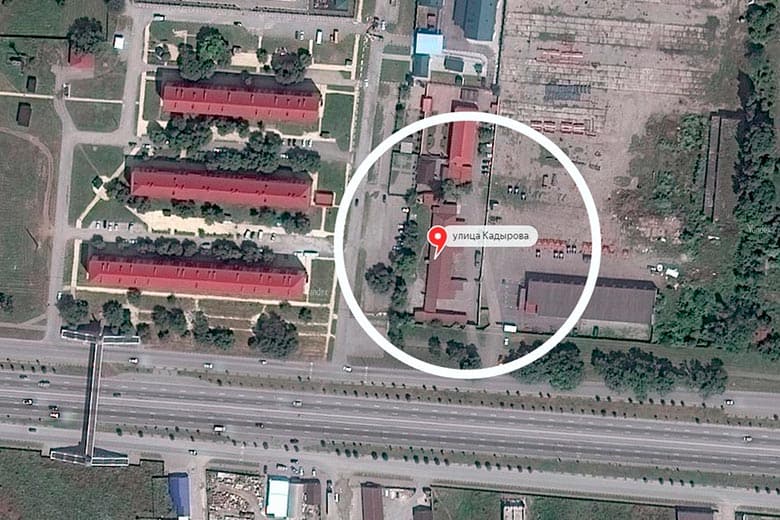 The U.S. State Department released a statement on Friday night in response to reports of the secret prisons.
It was the agency's second statement on the issue:
We are increasingly concerned about the situation in the Republic of Chechnya, where there have been numerous credible reports indicating the detention of at least 100 men on the basis of their sexual orientation. Some reports indicate many of those arrested have been tortured, in some cases leading to death. We categorically condemn the persecution of individuals based on their sexual orientation or any other basis.
We are deeply disturbed by recent public statements by Chechen authorities that condone and incite violence against LGBTI persons. We urge Russian federal authorities to speak out against such practices, take steps to ensure the release of anyone wrongfully detained, conduct an independent and credible investigation into these, reports and hold any perpetrators responsible.
The first, on April 6, called on the Russian government to investigate.
"We urge the Russian government to conduct an independent and credible investigation into the alleged killings and mass arrests, and hold the perpetrators responsible," said the State Department statement, provided to media outlets.
Secretary of State Rex Tillerson visited Russia today, There is no word on whether or not the situation in Chechnya was discussed, but the Human Rights Campaign called on Tillerson to speak up:
On visit to Moscow, Sec. Tillerson can't turn blind eye to citizens being tortured, killed on suspicion of being gay https://t.co/HkLotBh5q1

— Human Rights Campaign (@HRC) April 11, 2017
And GLAAD President Sarah Kate Ellis has called on UN Ambassador Nikki Haley to speak out:
I'm calling on @nikkihaley to speak up against the reported #LGBTQ concentration camps in Chechnya. RT to join me. https://t.co/NM05ag67fA

— Sarah Kate Ellis (@sarahkateellis) April 11, 2017
The NYT was the first U.S. news outlet to report on the detentions, in early April:
On Saturday, a leading Russian opposition newspaper confirmed a story already circulating among human rights activists: The Chechen authorities were arresting and killing gay men.
…The men were detained "in connection with their nontraditional sexual orientation, or suspicion of such," the newspaper, Novaya Gazeta, reported, citing Russian federal law enforcement officials, who blamed the local authorities.
By Saturday, the paper reported, and an analyst of the region with her own sources confirmed, that more than 100 gay men had been detained. The newspaper had the names of three murder victims, and suspected many others had died in extrajudicial killings.
"In Chechnya, the command was given for a 'prophylactic sweep' and it went as far as real murders," Novaya Gazeta reported.
The report was denied by the spokesman of the Chechen president, Ramzan Kadyrov, who suggested there were no gay people in the Muslim-majority region. Ali Karimov said, according to the state news agency RIA Novosti: "It's impossible to persecute those who are not in the republic."
"If such people existed in Chechnya, law enforcement would not have to worry about them, as their own relatives would have sent them to where they could never return," Karimov added.
New unverified reports have emerged recently from alleged survivors of the Russian torture that tell of a secret prison where gay men are kept and tortured, along with disturbing images of physical abuse.