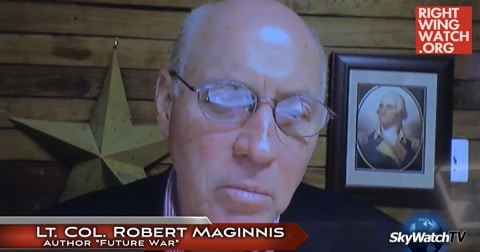 Hate group the Family Research Council (FRC) has come out with some awful nonsense over the years but group "senior fellow" Robert Maginnis has possibly reached maximum stupid by suggesting that Washington, D.C., is run by evil gay witches.
FRC's brand of stupid usually sticks to deity-based homophobia, leaving occult obsessions to the likes of satan-obsessed eejit Gordon Klingenschmitt and nasty muck-spreader Linda Harvey.
However, according to Maginnis hedonism and witchcraft are the very center of the nation.
Robert Maginnis: Witches 'Advise The Senior Leadership Of The Country' | Right Wing Watch https://t.co/CpE8EvwO3w

— Liberals in Missouri (@RhettJessy34) April 20, 2017
Speaking on SkyWatch TV, Maginnis said:
"If you look around Washington, you have Dupont Circle, famous for being the center of homosexuality in Washington, you have all sorts of activities down there that are pretty souring.
"You have a lot of witchcraft. You have a lot of hedonism. You have all the issues that—when I think of Sodom and Gomorrah, I often think of Washington, D.C. in the same thought."
Listen to Maginnis's frankly insane comments below via Right Wing Watch.