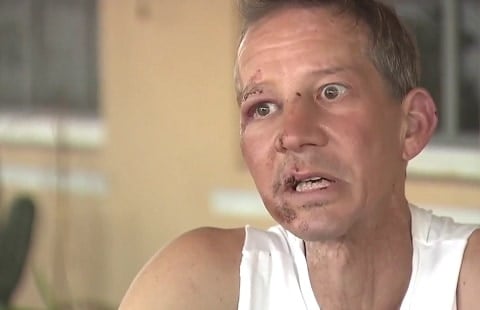 A 44-year-old Miami man has been arrested after allegedly brutally beating a gay man at a bus stop last Wednesday.
Raul Marti says he was trying to get home from work Wednesday night when he was attacked by Eric Pinkney at the bus stop on Biscayne Boulevard near 64th Street in Miami.
Marti, who is recovering from throat cancer, told ABC Local 10 News that Pinkney asked him why he was coughing so much.
"I looked at him and I said, 'I'm fine. Leave me alone, please. Go on your way,'" said Marti.
Pinkney "started saying things like, 'That's the problem with you fa—-s. You're all sick."
Marti again asked his attacker to leave him alone.
Raul Marti beaten, insulted with gay slurs at #Miami bus stop. I took the liberty of adding the perp's photo. https://t.co/JAK5zDI8Ld pic.twitter.com/CIr4fNvYS1

— Danielle☀️Savoy (@daniellecsavoy) April 21, 2017
However, he claims that Pinkney "hit me, and then he hit me one more time, and then I fell to the ground."
Pinkney absconded when passersby came to Marti's aid but a police officer quickly tracked him down.
Marti suffered a broken nose, multiple stitches and injuries all over his face
Pinkney faces a charge of aggravated battery but Marti plans on insisting the state attorney's office add charges related to a hate crime.
Watch a report below.