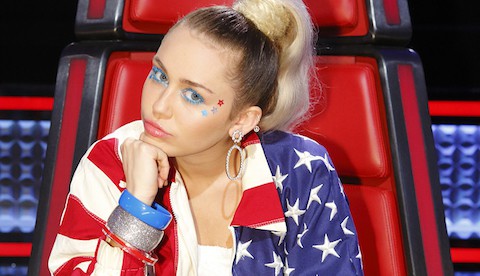 Miley Cyrus continued a lasting trend of supporting the LGBT community and revealed a handful of surprising truths in her latest interview with Billboard while promoting new new single, "Malibu," set to drop next week. She's done with weed, booze and drugs and, admittedly less surprisingly, she's gender neutral and sexually fluid.
Cyrus, who came out as pansexual in a 2015 interview with Elle UK, spoke about bringing a political presence as a coach on NBC's "The Voice."
"By sitting there after the election in head-to-toe pink, while on the inside being a gender-neutral, ­sexually fluid person, hopefully that was saying ­something," Cyrus told Billboard. "I needed some sparkle in my life, to make me able to deal. Radiating love is ­something that is important to me — ­hopefully, that is being political."
Cyrus also used the interview to talk about how affected she was by the 2014 suicide of 17-year-old Leelah Alcorn. 
"I was on a Christmas trip, and I was like, 'How am I sitting here about to open presents and someone has taken their own life?'" she said. "I started Happy Hippie because I never thought we would see this day where you have the Laverne Coxes of the world get not only trans roles, but female roles."
This isn't the first time Cyrus has spoken out in support of the LGBT community. In 2015, after Olympic freeskier Gus Kenworthy came out online and in an interview with ESPN, Cyrus cheered her friend on in an instagram post.
https://www.instagram.com/p/9Jlln1wzE9/
That same month, on Oct. 2, Cyrus also released a single "Hands of Love" for the movie Freeheld, starring Ellen Page and Julianne Moore, that tells a story of Laurel Hester, a lesbian with terminal cancer that had spread from her lungs to her brain, who was fighting the Ocean County freeholders in order to leave her pension benefits to her partner.
And if that wasn't enough even that year, Cyrus also closed out the 2015 MTV Video Music Awards with a dragtastic performance of her song "Dooo It!" where she was accompanied by 30 drags queens, including notable RuPaul's Drag Race alums Courtney Act, Willam, Violet Chachki, Shangela and Miss Fame to name just a few.
You can see the performance below.