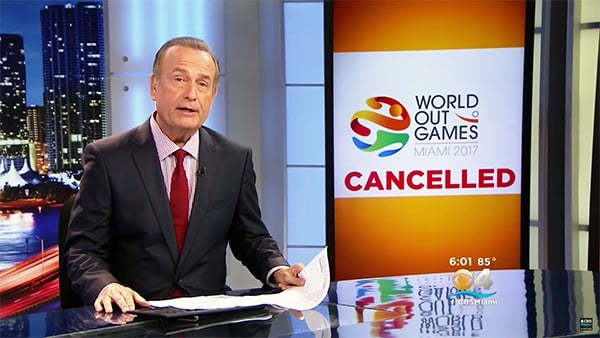 The World Outgames unraveled spectacularly at the eleventh hour Friday due to unspecified "financial burdens" that have already led host city Miami Beach authorities to open a fraud investigation to determine what went wrong.
Billed as a 10-day LGBTQ-themed competitive gathering of athletes from around the world, participants were left holding the bag following the abrupt cancellation, many having already traveled from afar or in mid-transit, and seeking a refund on their registration fees that averaged from roughly $50-300.
"This just displays bad management that has a serious financial impact on many people," said Peter Clancy, a businessman from Belgium who was in a plane two hours away from Miami when he learned the news online. He was going to compete in track and field, and his partner was due to run in the half-marathon.
"Last-minute notice also shows a complete lack of respect for the participants and especially those of us traveling from other continents," he said.
Rowen D'Souza spent about $3,000 traveling from Australia to play tennis in the games. He told the Miami Herald he was unimpressed with the flow of information from OutGames organizers throughout the process.
"The communication has been poor from the start," he said. "I suspect they knew there were problems but did nothing."
Ivan Cano, CEO of the OutGames, declined to comment beyond the statement from the board. As recently as Tuesday, he had spoken confidently about the OutGames.
Both opening and closing ceremonies and all sporting events apart from aquatics, country and western dance, and soccer were scrapped, leaving a bare-bones program of activities:
Several social events are still expected to go on, though the main focus of the games is supposed to be the athletic competitions. One of the events still going on as scheduled is the human rights conference, which was held Friday at the Loews Hotel. In the hotel lobby, athletes and attendees were shocked to find out sports events would no longer be held.
Community leaders greeted disheartened visitors and encouraged them to find other activities around Miami and Miami Beach.
In response to the OutGames debacle, all registered participants received free admission to a 7:30 p.m. performance of the Miami Gay Men's Chorus performance at the Colony Theatre on Lincoln Road.
Despite a substantial commitment from the city to the tune of $200,000, along with various waived fees and potentially more in matching funds and reimbursements, the event's apparent fundraising woes purportedly proved too much to overcome. But municipal and state officials are hoping a look at the organizers' books will shed more light on the postmortem.
"Due to the potential misappropriation of funds, the Miami Beach Police Department and the State Attorney's Office have conferred and are jointly opening a fraud investigation," explained Melissa Berthier of the city on Friday night.
"City staff has worked consistently for the past several months to assist the event producers with special events planning and permitting; fundraising efforts; relocating events to low or no cost venues; assisting with local partners to provide support and access; and providing financial support to cover police staffing costs," she said. "As a lead sponsor of the event, the city also waived all related special event and permitting fees for this event and provided cash sponsorship to the OutGames."
Berthier stressed that the city is committed to its LGBTQ community, and that officials will "do everything within our power" to determine the potential failures within the organization that caused so much of the even to be scrapped at the last minute. News reports said that some participants have flown to Miami Beach from long distances and even outside the United States.
In one case, a crowdsourcing attempt on IndieGoGo by event organizers got no traction, an early warning sign that the event was facing an uphill climb financially. The World OutGames began in 2006 and have faced obstacles before, particularly acts of violence directed against it in 2009.