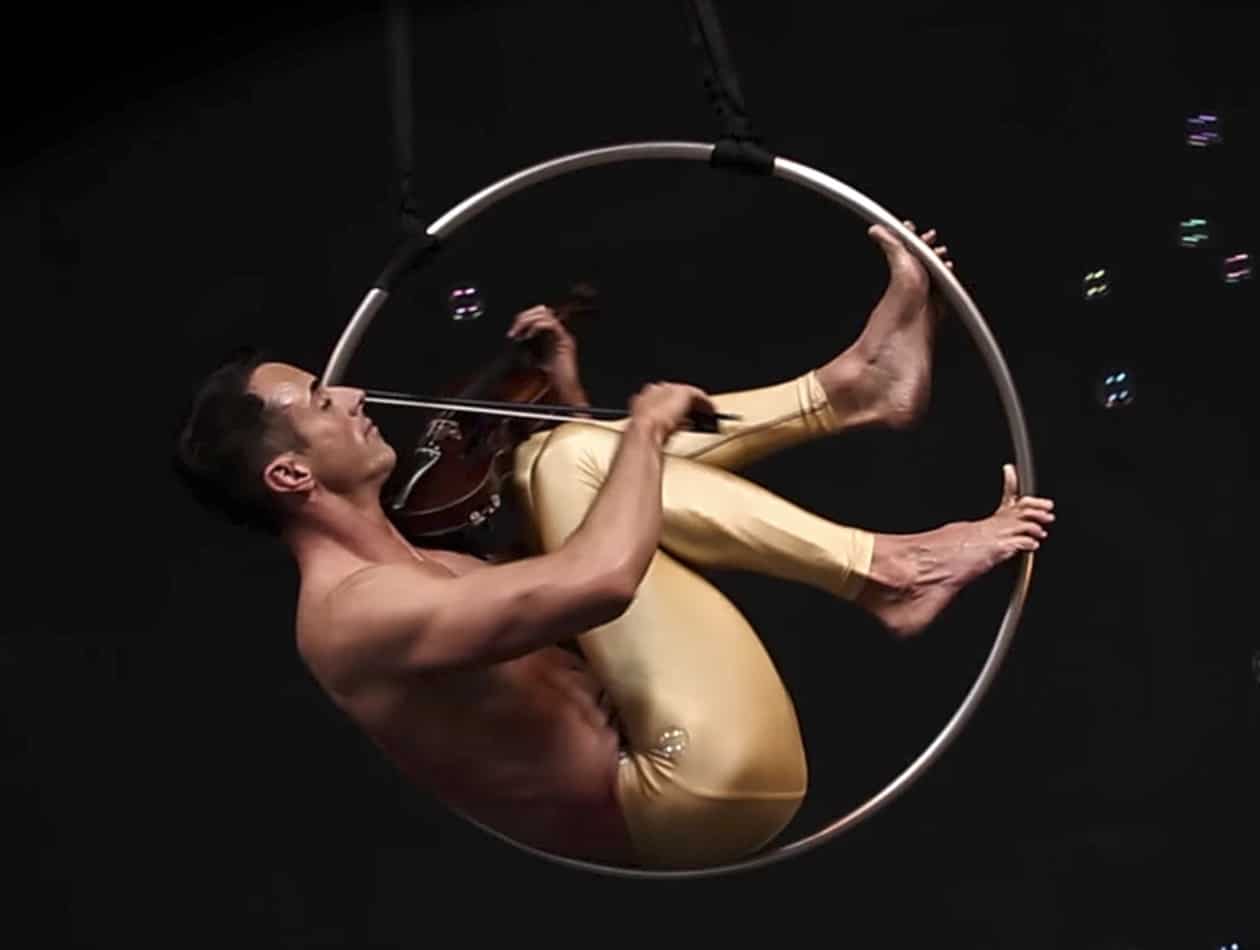 This is the chandelier everyone should have above their banquet table.
YouTube's Shirtless Violinist has followed up his gay Beauty and the Beast extravaganza with a stunning acrobatic performance of Sia's "Chandelier" in which he manages to remain perfectly composed while spinning through the air in a ring in all manner of positions.
I hope you like my cover of "Chandelier" by Sia. This is one of my all-time favorite pop songs and I think it sounds beautiful on the violin. I almost called this video "Shirtless Violinist In Space" – watch and you'll see why. It's kind of like that movie "Gravity" but with more violins and fewer shirts…
I have a confession: If I had any clue how much this was going to HURT before we filmed this video, I would have said "forget it!!" You guys, aerial arts are no joke! They require a lot of strength and skill and above all else…a willingness to take physical punishment! Those silks whipped my ass and that hoop pummeled me hard! When you watch the video it isn't hard to see the red welts along my back – ouch!
However, I expected some pain – so I can't say I was too surprised by that part. What I didn't expect was the motion sickness!! I always thought I was impervious to such things. I've never been car sick and I love riding roller coasters. But neither of those things could have prepared me for playing my violin upside-down while spinning on a giant hoop for 4 straight hours! Note to self: You're not 7 years old any more!
I have never felt so sick in my life! I spent every second between takes laying flat on my back.
But you know what? It was totally worth it, and now I have a ton of respect for the aerial arts. If you haven't done it before, I highly recommend you give it a try. Just don't do what I did…maybe take a beginner's class? Yeah, that would be far more sensible…
Check out the beautiful track: