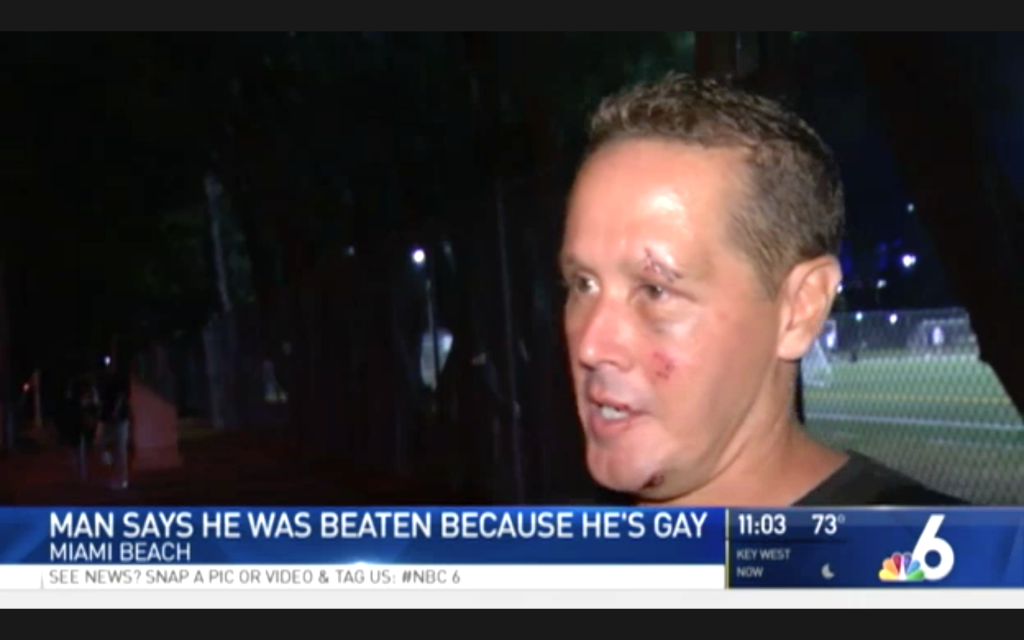 A  man was left knocked out on a South Beach sidewalk Friday night, Miami Beach police say, in an anti-gay attack that left him with internal bleeding, fractured ribs and a concussion, the Miami Herald reports.
Kenneth Wilcox, 45, was reportedly walking his dog around 5 p.m. Friday night when he was harassed by two men, one of whom said "you're a f—ing f—-t," the Herald reports.
After the first slur, Wilcox told police Sunday that one of his attackers seized him from behind and began punching him in the face and on his body. Wilcox said he also heard one of his attackers say that "all f—-ts need to die and we're going to make sure they do."
Wilcox claims that sometime during the attack, he passed out and woke up several hours later on the sidewalk, went home and slept, before going to Mount Sinai hospital the following day. That's where he learned of the extend of his injuries, he claims. A formal police report was filed Sunday.
NBC 6 in Miami
reports
that Wilcox told police that his attackers were black. He also added that one was between 6'1″ and 6'2″, around 160 pound and had  shaved head. The other attacker, NBC6 reports Wilcox said, was roughly 5'9″, also 160 pounds and similarly sporting a shaved head.
Watch the full segment below: